(CNN) -- Even before the current economic crisis, voters listed the economy as the top issue in the presidential election.

In a CNN.com special report, Battleground Voters, we talked to voters in five battleground states -- Colorado, Florida, Missouri, North Carolina and Ohio -- to find out how the economy would influence their choice for president.

In the first of four parts, we talked to small-business owners, who have been at the center of John McCain's and Barack Obama's plans on how they would get the ailing economy back on track.
BOULDER, Colorado: 'Is it worth hanging in'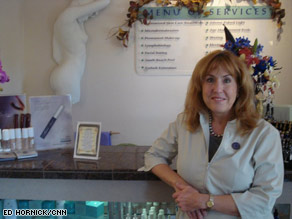 Susan Melching calls enduring current economic conditions "a very frightening experience."
Small-business owner Susan Melching is frightened by the country's economic future.
Melching said this is the first time in 26 years that she is worried her company won't survive.
"This is the first year that I have actually really felt on the verge of 'is it worth hanging in for it?' And it's a very frightening experience. First time ever," she said.
Her company, Susan Melching Inc., provides skin care treatments. Businesses that focus on beauty and luxury goods are usually hit especially hard during economic troubles.
The 53-year-old said she's had to downsize her business by cutting jobs -- from five full-time staff members down to a couple of part-time workers and herself. It's because, she said, customers are simply not coming in as often or at all.
"I'm pretty much relying on myself to get through this," she added. "Everything that I do is focused on keeping the business going. There's not much left for me."
Melching said she'd like the next president to focus on economic policies helping small businesses in small communities -- "financial support in those areas that would in turn benefit the whole country," she said.

See how the economy figures into to the politics of business owners »
Don't Miss
"I'd really love to see major change in the government. I don't think the problems are going to be solved in the next four to eight years, but at least we have to start somewhere."
With the economy faltering, Melching said this is the first year that she registered with a party, having been an independent her whole life.
While this businesswoman wouldn't say which party she chose, her answer to a question on the 2008 race was more telling:
"Personally, I wanted Hillary Clinton. ... Since we can't have Hillary, I really have a lot of the hope for some of the ideas that Barack Obama has. Sarah Palin scares the heck out of me."
-- CNN's Ed Hornick
MIAMI, Florida: Paying for groceries with loose change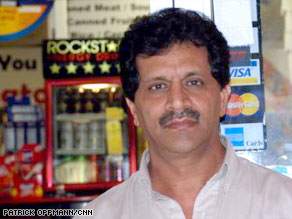 Victor Kapur says his expenses are going up as customers become more thrifty.
In the heart of Miami's South Beach sits the Washington Food Plaza. Open 24/7, it's the kind of neighborhood crossroads where a club kid loading up on caffeinated beverages to keep the party going stands in line next to an elderly woman buying vegetables for dinner.
From behind the counter, Victor Kapur has just about seen it all in the 15 years he has owned the store.
But he has never seen anything like the economic tough times that the country is reeling from.
"It's hurting the bottom line big time," Kapur said. "The expenses are going up. The electric bill keeps going up. It used to be $2,000, now it is close to $3,000 and the rent is going up, the salaries are going up, everything is going up." Kapur sees it in the faces of his customers, too. He says his regulars are buying less since the economy soured. Some pay for groceries with saved loose change.
He hopes things will turn around. They have to if he is going to stay in business.
The Food Plaza, he said, is "not even breaking even sometimes. I have to put money out of my pocket sometimes."
He has cut back on personal expenses; entertaining and eating out less. A long-awaited family trip to his native India will go on credit cards to be paid off later.
The economy weighs on Kapur's choice for president, too. He is leaning toward Obama, but he is not "100 percent."

Watch Obama compare McCain's economic policies to those of Bush »
He says he is worried about Obama's associations with his controversial former minister and with '60s radical Bill Ayers. Still, Kapur says, "Obama, at least he talks about the middle class and the lower class. McCain, he is one of those elitists. He worries more about the rich people."
-- CNN's Patrick Oppmann
ST. LOUIS, Missouri: Working harder for the same money
Angie Wilson, left, and Gail Brown tour one of Brown-Kortkamp's listings in St. Louis' Soulard neighborhood.
The Brown-Kortkamp Realty staff attentively eyed a chart projected onto the wall as company President Gail Brown assessed St. Louis' real estate trends last week. Like many in the property business, Brown-Kortkamp has taken a hit, but the Gateway City may be bouncing back. Brown told her staff to remain optimistic that economic activity picks up.
"We have to have the jobs so people can buy our properties," she explained.
Brown, whose father, Elisha Brown, founded the firm in 1960, runs three businesses -- the real estate firm, a moving/storage company and an urban planning outfit -- from a renovated brick building west of downtown. Her father also operates an insurance company there.
Brown-Kortkamp deals largely in real estate-owned foreclosures, and 90 percent of her clients are minorities, she said.
"Credit has always been difficult to obtain for minorities. When it dries up, it dries up more for minorities," Brown said.
Dealing in foreclosures means property comes cheaper, but foreclosures aren't impervious to plummeting prices.
"We're working harder. We're working around the clock nonstop because we have to sell so many more properties today to make the same amount of money," Brown said.
She said she has put her own money into the company and found ways to trim costs, such as cutting back on travel.
Brown doesn't believe John McCain can turn the economy around. He's divisive and hasn't reached out to minorities, she said.
Her summation of Barack Obama, however, is glowing. She believes his health care plan will lower her employees' insurance premiums. Also, his tax plan will help her business and his plan to improve education will help sell houses, she said.

Watch CNN's Dr. Gupta explain the candidates' health plans »
"I don't want to try to live through more of the same when I see an opportunity to do something better," she said. "I can't help but be in support of Barack. I really can't."
-- CNN's Eliott C. McLaughlin
BURLINGTON, North Carolina: 'The president is not the commander-in-chief of the economy'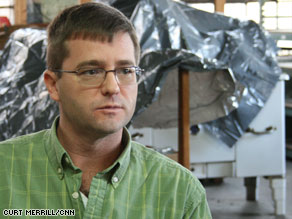 Charles Moore is closing the hardware store his family has owned for more than 30 years.
Charles Moore has had enough.
After years of flat sales and competing with not one but two Walmarts, Moore is closing the hardware store that his family has owned since 1977.
Located on Main Street, the store was in many ways a throwback: It was a place where old men gathered to swap stories and a person could buy machine bolts, bird seed and everything in between.
"We've got a lot of friends, a lot of them visit us every day," said Moore, 45. "The friendship and the camaraderie is what I'll miss."
But sales have been flat for the past three or four years, Moore said, and the recent economic slowdown finally pushed him to close the store.
"I'm somewhat sad over it; I'm not angry," Moore said. "I am somewhat sad for the community... because it's something the community needs."
Moore, however, does not blame President Bush and the Republicans for the current economic downturn.
"The president is not the commander-in-chief of the economy," said Moore, a registered Republican. "It's on everybody's watch."
As for who he will vote for to succeed Bush, Moore said he was choosing "the lesser of two evils." While admitting that he would have preferred another Republican candidate, Moore said he would vote for John McCain because "we are already taxed to death."
And he just doesn't trust Barack Obama.
"His background for me is just not that solid," Moore said, referring to Obama. "For me, he's just on a ride of popularity."
Moore said he also liked the fact that Alaska Gov. Sarah Palin was on the GOP ticket.
"I'm just glad to see someone who has not been in Washington forever going to Washington," he said. "She's more like us -- when I say 'us,' I mean the people in this store, the people working in this community."
-- CNN's Scott J. Anderson
XENIA, Ohio: 'If this place goes down the tubes ... my dream is crushed'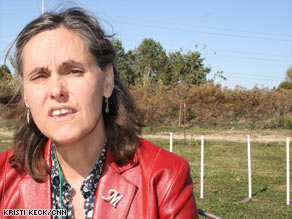 Small-business owner Mary Grech works a second job for health benefits.
Seven years ago, Steve and Mary Grech took out a second mortgage so they could start Francis Kennels.
Their business has expanded over the years and now includes grooming services, obedience training and doggie day care. At times, they house more than 100 animals.
While they are achieving many of the goals they set when they started, they are still unable to provide benefits for their employees.
"We wanted to make this a place where people could actually grow with us and make a living," said Mary Grech, who works a second job so she and her husband can have health benefits.
In terms of the economy, there's a lot at stake for the Greches in the upcoming election.
"If this place goes down the tubes, I have to go find another job, plus my dream is crushed," Steve Grech said.
The two work long hours, often six days a week. They say the taxes they pay are a huge burden on their business, and they are worried that burden would grow under an Obama administration. Read more about small business owners in Ohio
Mary Grech says they will likely vote for John McCain "by process of elimination."
"I'm sorry, but I work really hard. My husband works really hard. We work long, long hours and for [Barack Obama] to say he's going to take part of my earnings and give them to someone else ... I am very offended by that. It smacks of socialism, so it definitely won't be Barack."

Watch how McCain says Obama wants to redistribute weath »
Steve Grech said he is looking for a candidate who can lower Social Security and payroll taxes. He and his wife are supporters of the fair tax.
Both candidates are "out of touch" with small-business owners in Mary Grech's opinion. McCain doesn't understand the economy, she says, but she has more faith in him than Obama. If Obama takes office, Grech said she'd probably back off on her long hours.
"What would be the incentive for me to work these long hard hours if he is going to take my pay? To me that is counterintuitive. It's punishing my hard work."
-- CNN's Kristi Keck
CNN's special report on battleground voters continues Wednesday with a look at students, Thursday with retirees and Friday with unemployed voters.
E-mail to a friend

All About Barack Obama • John McCain • Health Care Policy