By Mallory Simon
CNN

RIVERDALE, Georgia (CNN) -- Melvin Dubose wishes he had just decided to vote in New York.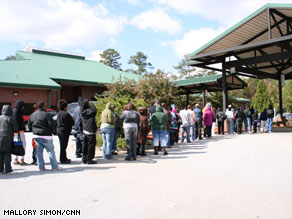 Hundreds of people stand in line outside the Frank Bailey Senior Center Tuesday in Riverdale, Georgia.
The Clayton County resident, who registered to vote in Georgia when he moved six months ago, showed up at the Frank Bailey Senior Center in Riverdale, Georgia, at 9 a.m. hoping to cast his vote early.
At 2 p.m. Dubose had just reached the front of the line -- that ran hundreds deep and snaked around the senior center into the back parking lot.
After battling temperatures in the 40s and finally reaching the front door, yet another line and voter information forms stood between Dubose and the voting booth.
"It's ridiculous," he said. "It's worth it, but it's completely unnecessary. We shouldn't have to wait four or five hours in the cold to be able to vote. I would have voted in New York if I knew it was going to be like this."

See photos of the long lines in Clayton County, Georgia »
When polls closed Monday, 1.2 million of Georgia's 5.6 million registered voters -- more than 21 percent -- had cast ballots, George Secretary of State Spokesman Matt Carrothers said. The secretary of state's office anticipated the strong turnout and has been preparing for this election for a year, he said.

View early vote counts across the country »
The sheer numbers would have been overwhelming on their own, but slow computers and a host of logistical and staffing issues compounded the problems, Carrothers said.
Record-breaking early turnout has been seen across the country.
The Virginia branch of the NAACP sued Gov. Tim Kaine and state election officials on Monday, saying the state is "inadequately prepared" for the record number of voters expected in next week's presidential election.

Watch the latest on the lawsuit »
In North Carolina, which has become a battleground state in the contest between Democratic Sen. Barack Obama and Republican Sen. John McCain, more than 1.2 million voters have cast early ballots, representing 20 percent of registered voters, according to the state Board of Elections.
In Florida, there were so many early voters that Gov. Charlie Crist issued an executive order Tuesday to keep polls open 12 hours a day, up from eight hours.
CNN Voter Hot line
If you have a problem voting or see a problem, call the CNN voter hot line at 877-GOCNN08 (1-877-462-6608); CNN will report on some of your calls, and our partner, InfoVoter Technologies, can help you get in touch with your election board or find your voting location.

At the senior center in Riverdale, Georgia, voters were hoping there wouldn't be a repeat of flubs at the polls on Monday. Election officials had to keep the polls open past 11 p.m., Carrothers said. CNN affiliate WSB reported the senior center accommodated voters until 1 a.m. Tuesday, with some voters saying they waited in line for nearly 12 hours.

Carrothers said some staff members didn't show up to work in Clayton County, and the secretary of state's inspector general sent a monitor to the county Tuesday morning.

On Tuesday afternoon, Carrothers said he hadn't heard of any specific problems in Clayton County. Exiting voters complained there were only six voting machines inside and said one of them was broken.

Dubose and the group of hopeful voters around him tried to make light of the situation -- and the weather -- having someone hold their place in line while others went to stand in the sunny parts of the parking lot.
Don't Miss
Bundled in winter jackets, hats, scarves and armed with "USA" beach chairs, books and iPods, Clayton County voters tried to stay positive despite slow-moving lines.
Some came out early, but left when the lines crawled to a halt after 90 minutes.
"I couldn't take it anymore," 24-year-old Senquoia Johns said.
Johns and her 4-year-old son waited in line for nearly two hours before deciding to leave. She came back at 1:30 p.m. hoping the lines would move faster. After another 90 minutes, she had made it to the middle point in the line.
For Johns, braving the cold was worth it to try to make a difference in what direction the country goes.
"I'm excited about there being a black candidate, but also with gas problems and everything, we need to do something to get out of the recession," she said. "I can endure a little bit of cold to do my part to try and get things better."
Standing in the long lines meant missing out on income for some. Jolanda Patterson cuts hair for a living and took the day off to vote early. Patterson has been registered to vote since she was 18, but is voting for the first time at age 40.
"I've grown up now," she said. "I've got to worry about how I'm going to take care of myself and that means voting for who can help me best."
"If the line was wrapped around the building I'd still vote," Patterson said, showing off a pin that showed Dr. Martin Luther King Jr. alongside Obama. "I don't care how long this takes, this is my agenda today. If I was working, I'd be making $200, but more than the money, I need to vote today to make a difference."
Many of the hopeful voters were debating whether it was a good idea to vote early, given the lag in the line's movement.
Marcus Jones, 19, was waiting for his chance to cast a ballot in his first election. The Chatahootchee Tech student had the day off, heard things were busy and figured he should try to vote early.
"I had figured I'd come before the chaos," he said. "But I'm not sure when is going to be worse."
Around the corner, Shari Burke sat in a beach chair, bundled up, talking with those around her. Burke dragged her chair a couple feet forward each time the line inched ahead.
"I will stand in line if it takes 20 hours and me standing in a foot of snow," she said.
Carrothers said that many locations around the state had minimal wait times, between 5 and 10 minutes, but that there were still some polling locations with problems.
Carrothers directed questions regarding problems to Clayton County officials, saying they decide how many polling locations are set up, what the hours are and how many machines are at each location.
CNN could not reach Clayton County Board of Elections officials for comment. The main line to the Board of Elections was consistently busy and had a message to call back later.
Dubose hoped that voting early would mean less of a wait for the elderly or those who didn't have the opportunity to take a day off. But he, like others waiting in line, wondered if election officials will make any changes before November 4.
"If it's going to be like this now, what are they going to do Election Day?"
E-mail to a friend

CNN's Eliott C. McLaughlin contributed to this report.
All About John McCain • Barack Obama • Elections and Voting