WASHINGTON (CNN) -- Democratic Sen. Edward Kennedy returned to Washington Tuesday for the first time since July, following an operation for a brain tumor in June, his spokesman said.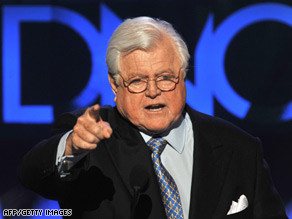 Sen. Edward Kennedy addresses the Democratic National Convention in Denver, Colorado, in August.
"He hasn't been there for months, and he thought this would be a good time to be back. He plans to return to [Cape Cod, Massachusetts] for Thanksgiving," spokesman Anthony Coley said.
Kennedy has not decided whether he will attend the "lame duck" session of the Senate following next week's elections, Coley said. Kennedy is not up for re-election this year.
But when he does return to the Senate, he will use new office space conveniently located just off the Senate floor, two Senate aides told CNN.
That will allow Kennedy to avoid a long trek from his Russell Senate Office Building to the Capitol for votes and other business.
The ornate room on the second floor of the Capitol was donated by Senate Majority Leader Harry Reid, who otherwise uses the large space for meetings and other events, such as his weekly briefing with reporters.
In June, doctors successfully removed a malignant tumor from the brain of Kennedy, 76, of Massachusetts. His doctors at the time said they did not expect any permanent damage from the procedure.
Just one month later, Kennedy made a dramatic visit to the floor of the Senate to cast a vote to help break a deadlock on an important Medicare bill.
His last public appearance was in Denver, Colorado, on the opening night of the Democratic National Convention in August, where he received a rapturous welcome from Democratic delegates.
Kennedy is quietly negotiating major health care legislation -- which he hopes will be approved by Congress early next year and signed into law by Barack Obama, should he become president -- while being treated for brain cancer, Kennedy's office said Friday.
Don't Miss
The Kennedy initiative, which has been under way since the summer, includes negotiations with a variety of interest groups and the staffs of a bipartisan group of lawmakers.
He spoke to them regularly via video conference from his home in Cape Cod, Massachusetts, where he was recuperating from his cancer treatment.
Kennedy had a scare in September when he was briefly hospitalized after what his office called a "mild seizure." His office said the seizure was caused by a change in his medication.
E-mail to a friend

CNN's Ted Barrett and Scott J. Anderson contributed to this report.
All About Edward M. Kennedy • U.S. Senate