(CNN) -- Presidential hopeful Barack Obama turned up the heat on rival John McCain Wednesday, when it was announced that a 30-minute long campaign ad will go out on prime time television in the United States.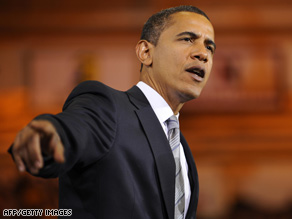 Sen. Barack Obama hits prime time Wednesday night with a 30-minute ad buy.
It's the first time in 16 years that a presidential candidate has bought a peak time slot to make his closing argument. The half-hour ad will run on NBC, CBS, Fox and Univision.
However CNN declined the Obama campaign's request to air the ad. The network said it did not want to pre-empt its programming lineup with a 30-minute paid commercial program.
Talks betwen the Obama team and ABC fell apart, with a source familiar with ABC policy suggesting the network had offered a different time slot.
However Obama campaign spokesman Bill Burton said ABC had ultimately offered Obama the slot he wanted, but the campaign turned it down. "By the time they agreed we had already committed our resources," Burton said.
The television ad, which is estimated to have cost about $5 million, will include a live segment from Florida -- a key battleground state -- with voters discussing their problems and Obama laying out his plans for the country.

Watch more on the final stretch »
Obama's closing effort also includes an appearance on Comedy Central's "The Daily Show" and a late-night rally in Kissimmee with former President Bill Clinton.
Joe Biden, Obama's running mate, also will be in Florida for an event in Jupiter.
Obama has outspent rival McCain by a huge margin, according to CNN's consultant on ad spending.
Between the time the two candidates clinched their party's nominations in the spring and October 25, Obama spent more than $205 million on TV ads.
McCain spent more than $119 million, according to TNS Media Intelligence/Campaign Media Analysis Group.
Meanwhile, the McCain campaign launched an ad Wednesday attacking Obama for his 30-minute special, saying: "Behind the fancy speeches, grand promises and TV special, lies the truth: With crises at home and abroad, Barack Obama lacks the experience America needs."
The Republican National Committee also blasted the timing of the ad, which pushed back the start of a World Series baseball game. "It's unfortunate that the World Series' first pitch is being delayed for Obama's political pitch. Not only is Obama putting politics before principle, he's putting it before our national pastime," RNC spokesman Alex Conant said.
"To accommodate a half-hour Obama time buy on Fox on October 29, Major League Baseball... agreed to move the start time of Game 6 by about 15 minutes," a Fox spokesman said.
Wednesday night's game is in fact Game 5, due to a rain delay. MLB's willingness to delay the fall classic for a political ad shows how very unusual the Obama TV spot is.
"Ross Perot did it in 1992, but it wasn't this close to Election Day, and now you have a very different media consumption environment. You didn't have the cable then," CMAG's Tracey said. "There is no precedent for this sort of an ad this late in the race."
Nationally, Obama holds a lead of 8 percentage points over McCain, 51 percent to 43 percent, according to CNN's poll of polls.
E-mail to a friend

-- CNN Associate Political Editor Rebecca Sinderbrand and CNN Entertainment's Rachel Wells contributed to this report.
All About U.S. Presidential Election • Sarah Palin • Joseph Biden