By Stuart Rothenberg and Nathan L. Gonzales
Rothenberg Political Report
Stuart Rothenberg, who has been a political analyst for CNN and CBS News, is editor and publisher of The Rothenberg Political Report, a nonpartisan political newsletter. Nathan L. Gonzales is the publication's political editor.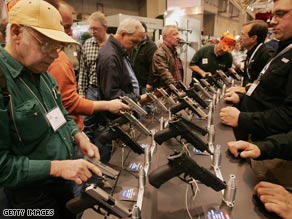 Gun enthusiasts look over pistols during a National Rifle Association event in St. Louis, Missouri, in 2007.
(CNN) -- While many in the media are single-mindedly focused on vice presidential nominee Sarah Palin's outfits, Republican efforts to brand Sen. Barack Obama a socialist and the chances that Democrats will net nine Senate seats (giving them 60 seats in the next Senate), some other interesting things are going on -- things that are being missed.
One of those is an unreported major Republican National Committee radio buy in eight key states: Colorado, Missouri, Montana, North Carolina, Ohio, Pennsylvania, Virginia and West Virginia.
The buy is interesting because it includes some states expected to be in McCain's column by this time (Montana, North Carolina and West Virginia, for example), but also because of the message of the 60-second spot: gun control.
The ad, which is part of the RNC's Independent Expenditure campaign that has been run by OnMessage Inc., a Republican media, polling and strategy firm, raises an issue that some strategists believe has mistakenly been underplayed by the McCain campaign.
"If Barack Obama becomes president, your Second Amendment right to defend yourself could be in danger. In fact, in Illinois, Obama voted to prosecute law-abiding citizens who used a gun to defend themselves or their families," says a narrator in the RNC spot.
"Obama supports local governments to ban guns," the radio ad continues. "Obama wants to license and register gun owners. Obama opposes judges who protect our Second Amendment right."
Don't Miss
The ad, which is airing on stations that have a variety of formats, isn't being run in major markets (such as Kansas City and St. Louis, Missouri), but is being aired heavily in rural areas and smaller markets (such as Joplin, Springfield and Cape Girardeau, Missouri, for example).
The spot's message surely will resonate with conservative Republicans and could help with turnout among those partisans. But the major target audience appears to be conservative Democrats, many of whom have leaned toward Obama recently because of economic fears and uncertainty but surely are closer to the GOP's positions on cultural issues.
Interestingly, the ad also could help GOP candidates for the House and Senate, since they too are losing those same conservative Democratic voters. You can bet that it's no coincidence the ad is airing in North Carolina, which has both a Senate and a gubernatorial race as well as a hot House contest, and Missouri, with a race for governor and two key House contests.
There are also multiple hot House races in rural areas of Ohio, where the spot also is running.
The RNC's Independent Expenditure TV blitz has been heaviest in Ohio, Florida, North Carolina, Missouri and Virginia. That, too, tells you something about where the presidential race is being fought. But it's awfully difficult to believe that that the IE's buy in Louisville, Kentucky, which reaches into southern Indiana, also isn't meant to help Sen. Mitch McConnell's re-election bid in Kentucky by hammering Obama and his agenda.
Finally, Republican candidates increasingly are turning to a message of "don't give liberals a blank check in Washington."
The National Republican Senatorial Committee has been up with two "no blank check" spots in North Carolina for Sen. Elizabeth Dole as well as a similar spot against Sen. Mary Landrieu in Louisiana. Now, Pennsylvania GOP congressional hopeful Chris Hackett is airing a TV spot featuring Sen. Arlen Specter, R-Pennsylvania, that delivers the same message.

Watch how the Dole ad calls her opponent "godless" »
These tactics aren't likely to remake an entire election cycle, but they could affect the way some key voters cast their votes next week. And that's all Republicans can ask for in the campaign's dying days as GOP candidates try to win an extra race and carry an extra state.
E-mail to a friend

All About Gun Control • Politics • Elections and Voting