(CNN) -- Sen. John McCain is campaigning with Arnold Schwarzenegger in Ohio as he attempts to overturn Barack Obama's poll lead in the state.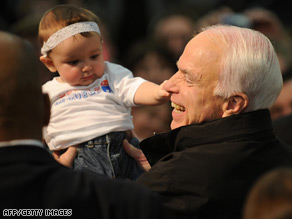 Sen. John McCain holds 16-month-old Alyasa Howald during a rally in Mentor, Ohio, on Thursday.
McCain kicked off a two-day bus tour of the must-win state Friday, while his Democratic rival, Obama, returned to the state that was the springboard for his presidential campaign, Iowa.
McCain, the Republican presidential nominee, will hold rallies in Hanoverton, Steubenville, New Philadelphia and Columbus.
California Gov. Arnold Schwarzenegger will join McCain Friday night during the rally in Columbus.
The Arizona Republican must win Ohio's 20 electoral votes if he has any chance of becoming president, and recent polls suggest that McCain is going into the campaign's final weekend behind in that key state.
The CNN poll of polls in Ohio calculated Wednesday indicates that the Democrat has opened up a 8 point lead in Ohio, with Obama leading McCain 50 percent to 42 percent with 8 percent unsure.

Watch Sarah Palin on taxes »
No Republican has ever won the presidency without winning Ohio. iReport.com: Kids beg Ohio grandparents to vote Obama
Despite being behind the polls, McCain Thursday night expressed confidence that the tide was turning in his favor.
"I can feel momentum in this room in this room tonight. We're going to win. We're going to win Ohio," McCain told supporter in Mentor, Ohio. "I can feel it, I can feel it. My friends I can feel it."
The Republican nominee will not spend all of his final weekend campaigning on serious matters. McCain plans to make an appearance on Saturday Night Live. McCain has appeared on the show before, but this weekend will be his first appearance on the show this year.
Obama Friday will return to the state that gave him his first significant win in his quest for the presidency, Iowa.

Watch more on who could be Obama's head of staff »
In January 2008, Obama scored an upset victory by capturing 38 percent of the vote at the Iowa caucuses, topping both John Edwards and Sen. Hillary Clinton, who was at the time considered the frontrunner in the Democratic presidential context.
Partially due to the support he developed during the caucuses, Obama has maintained a commanding lead in Iowa throughout the general election campaign. The latest CNN poll of polls in Iowa shows Obama leading McCain by 12 points, 52 percent to 40 percent.
Obama will hold a rally in Des Moines, Iowa, then head to Indiana, a state where he is in a tight race with McCain. A CNN poll of polls has McCain slightly ahead, 47 percent to 46 percent with 7 percent sure.
The two vice presidential nominees are also campaigning in battleground states on Friday. Alaska Gov. Sarah Palin, the Republican vice presidential pick, will meet voters in Latrobe and York, Pennsylvania. Her Democratic counterpart, Sen. Joe Biden, will start the day at a rally in his home state of Delaware then head to events in Kettering and Lima, Ohio.

Watch a comedian's take on the election »
Recent polls shows that the Republican ticket also has ground to make up in Pennsylvania. A CNN poll of polls calculated Wednesday has the Obama-Biden ticket leading the McCain-Palin ticket 53 percent to 42 percent with 5 percent undecided.
E-mail to a friend

All About Barack Obama • John McCain