(CNN) -- Just three days before Election Day, Sens. Barack Obama and John McCain spent Saturday campaigning across battleground states.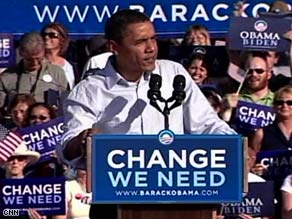 Sen. Barack Obama holds a rally Saturday in Pueblo, Colorado.
"We are three days away from changing America," Obama said at a late rally in Springfield, Missouri, his third stop on Saturday. Still, Obama added, "We can't afford to slow down or let up in these next few days ... not when there's so much at stake."
Sen. John McCain capped off a day of campaigning in Virginia and Pennsylvania with a sidetrip to New York, where he appeared on "Saturday Night Live" on the last weekend before the presidential election. McCain has made two previous appearances on the NBC show, but it's the first one this year.
The Arizona senator appeared in the opening skit, next to former cast member Tina Fey reprising her role as his running mate, Alaska Gov. Sarah Palin. He made a second appearance during the "Weekend Update" segment that skewers current events.
Earlier in the day, McCain told Springfield voters in northern Virginia that the area is key to a Republican victory.
"I want to remind you again: Fairfax County is key to this election," McCain said. "You know that. You know how important it is for us to win here. You know how important it is that we put this country in the right direction. I need your help for the next three days."
Earlier Saturday, Sen. Barack Obama also hit key swing states, campaigning in Missouri, Colorado and Nevada and taking a jab at that day's endorsement of McCain by Vice President Dick Cheney.
At an event in Laramie, Wyoming, Cheney said he will vote for the McCain-Palin ticket.
"This year, of course, I'm not on the ballot, so I am here ... not to vote for me, but I want to join daughter Liz, who is with me today, join us in casting ... our ballots for John McCain and Sarah Palin," Cheney said.
Obama started his day with a morning rally in Henderson, Nevada, before heading to Pueblo, Colorado, and Springfield, Missouri.
"I'd like to congratulate Sen. McCain on this endorsement, because he really earned it. That endorsement didn't come easy," Obama said at the Pueblo rally.
He added that Cheney "knows that with John McCain, you get a twofer: George Bush's economic policy and Dick Cheney's foreign policy. And that is a risk the American people cannot afford to take."
Don't Miss
McCain spokesman Tucker Bounds responded in a statement: "Barack Obama and Dick Cheney aren't just cousins; they've shared support for the Bush energy policy and the out-of-control spending that John McCain has fought to oppose."
Bounds was referring to research done by the vice president's wife showing that Cheney and Obama are distant cousins.
Earlier at a rally in Henderson, Nevada, Obama continued to defend his tax plan for the middle class -- and defended against "socialist" claims made against him.
"The choice in this election isn't between tax cuts and no tax cuts. It's about whether you believe we should only reward wealth or we should also reward the work and the workers who give it," Obama said. "John McCain calls this socialistic. I call it opportunity."
At the event in Springfield, Virginia, McCain hit Obama hard on issues facing seniors.
"Every four years, the Democrats roll out these ads try to scare seniors over Social Security and Medicare. ... I was there when we saved Social Security under President Reagan, and I'm going to protect Social Security. I'm going to protect Medicare, and I'm not going to let this Congress tax away your retirement," McCain said.

Watch more of McCain's Virginia rally »
A month ago, McCain's brother Joe called northern Virginia "communist country." And two weeks ago, McCain adviser Nancy Pfotenhauer said the area wasn't a "real" part of the state.
"I certainly agree that northern Virginia has gone more Democratic," Pfotenhauer had said. "And as a proud resident of Oakton, Virginia, I can tell you that the Democrats have just come in from the District of Columbia and moved into northern Virginia.
"And that's really what you see there. But the rest of the state, 'real' Virginia, if you will, I think will be very responsive to Sen. McCain's message."
Asked whether she wanted to clarify her comments, Pfotenhauer stood by them.
McCain attended a rally in Perkasie, Pennsylvania, before heading to New York for his appearance on "Saturday Night Live."
Meanwhile, former President Clinton hit the campaign trail for Obama in Beckley, West Virginia.
Clinton defended Obama's economic policies and blasted the GOP for believing in a "top-down economy."
"We can't afford the wrong philosophy, and they're out there whacking on Obama saying he's for redistribution. Give me a break, folks," Clinton said.
Obama's chief strategist said the last-minute appearance of stories like this weekend's news that the Illinois senator's aunt may be living in the country illegally would make people "suspicious."
Zeituni Onyango, a native of Kenya, has been living in Boston, Massachusetts, despite losing an appeal for asylum, a source told CNN.
Obama's campaign issued a statement Saturday saying that the Democratic nominee "has no knowledge of her status but obviously believes that any and all appropriate laws should be followed."
Obama campaign chief strategist David Axelrod said the timing of the report might raise a few eyebrows.
Sen. Joe Biden, Obama's running mate, said he hoped McCain would finish the campaign with a positive tone. The Democratic vice presidential candidate said he doesn't remember a presidential campaign ending so viciously.
"In my view, over the last few weeks, John McCain's campaign has gone way over the top," Biden said Saturday at a rally in Evansville, Indiana. "They are trying to take the low road to the highest office in the land."

Watch more of Biden's take on the race »
Biden traveled Saturday to events in Marion, Ohio, and Bowling Green, Ohio. Watch analysts weigh the state of the race
Biden's Republican counterpart, Alaska Gov. Sarah Palin, kicked off a bus tour of central Florida on Saturday by focusing on the financial concerns of the nearly 3 million Floridians over the age of 65.
Palin, speaking at a rally in New Port Richey, Florida, promised that she and McCain will "keep our defining commitments to our senior citizens."
But she spent little time on the Republican agenda and turned her sights on Obama, who has accused McCain of wanting to cut Medicare funding and place Social Security benefits in the stock market.

Watch more of Palin's comments »
"Obama goes around promising a new kind of politics. Then he comes here to Florida. ... He tries to exploit the fears and worries about Social Security and Medicare to our retirees, and that's the oldest and cheapest kind of politics there is," she said.
Palin said Obama favors a government takeover of health care, an accusation that drew boos from the audience.
Referring to New Mexico Gov. Bill Richardson, a Democrat who said this week that Obama's tax cuts would go only to those making under $120,000, Palin called the Democratic tax plan "so phony" and said she was thankful that "it's starting to unravel" and that "the light is being shown on his tax plan."
According to the Obama campaign, Richardson meant to say that people making less than $250,000 won't see their taxes increase.
Palin also continued to repeat a claim, which has been debunked, that "according to an independent analysis, our opponent's new policies will destroy nearly 6 million jobs over the next decade." She later made the same claim at rallies in Central Florida and Raleigh, North Carolina.
The Alaska governor had rallies scheduled in five cities in three key states Saturday: Florida, North Carolina and Virginia, once a reliable Republican state that's now a toss-up.
E-mail to a friend

CNN's Dana Bash, Peter Hamby, Ed Hornick, Alexander Marquardt and Rebecca Sinderbrand contributed to this report.
All About U.S. Presidential Election • Barack Obama • John McCain