By Frank Sesno
CNN Special Correspondent

(CNN) -- It's over. Hard to believe -- since this presidential campaign has been going on in one form or another for something like two years. It's a campaign that has been wrapped in fear, vulnerability and stark emotion.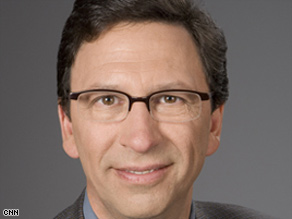 Frank Sesno says the campaign has emphasized our fears and now the country's mood may improve.
The keep-us-awake warnings have been relentless. Whoever wins will inherit the worst financial mess since the Great Depression. Maybe a trillion dollar deficit. Close to 50 million uninsured. Boomers barreling along toward retirement. A shrinking economy and a global recession that could take years to turn around. A mortgage and housing mess that have yet to bottom out.
Toss in the usual foreign migraines -- Osama bin Laden, China, Russia, Iran, Pakistan, climate change -- and it's a wonder anyone gets out of bed in the morning.
Yes, it's ugly out there. And Americans are scared. Polls show that nearly 9 in 10 think the country's going in the wrong direction. Our president's approval rating is just 28 percent. If George W. Bush is tired of hearing everyone moan about his legacy, he should just change the channel. Buy another baseball team. Or invest in a really nice timeshare in, say, Argentina. Most Americans consider his presidency a failure.
But let's not confuse challenging (okay, really challenging) with cataclysmic. I'm not turning a blind eye to the problems, or hiding behind rose-colored glasses. I'm just looking for a little context here -- what these times are not.
This is not 1929, when a lot of people -- including my mother's family -- showed up at the bank to withdraw money and watched as the doors were closed in their faces. Forever. As the banks failed, unlucky depositors lost everything. And there was no government agency to bail anyone out.
This is not the Great Depression that followed, when a quarter of the country was without work. When there were no food stamps, no unemployment insurance, no safety net. People ate in soup kitchens, and lived in hovels under bridges and in fields called Hoovervilles, named for an astoundingly unpopular president.
It's not 1941 when Japan bombed Pearl Harbor while Hitler was obliterating Europe and murdering Jews and anyone else who wasn't pure enough by his lights.
It's not 1962, when my second grade class practiced air raid drills in some surreal expectation that by sitting with our backs to the windows, our heads tucked between our knees, we could somehow survive a nuclear attack that would come from Soviet missiles on a hair trigger just 90 miles from the Florida coast, in a place called Cuba.
It's not 1968, when Martin Luther King Jr. and Bobby Kennedy were murdered and our cities burned. Another memory of my mother: With tears in her eyes, she told us we were seeing a "revolution."
It's not Vietnam when we fought and lost a war -- and 58,000 young Americans -- and watched America tear itself apart.
None of this is to say that the sheer size and complexity of today's problems -- which are truly global -- won't prove more intractable, more complicated and more consequential than we realize even now.
But crisis has a way of focusing the mind. Sometimes being really scared is a good thing. Like when you get that feeling in the pit of your stomach when you lean too far out the window and look too far down. Something inside shouts, "Get back! Move! Now!"
The country and the next president -- all of us -- are at the window. It's a long way down. But our instincts are intact. We've been here before. We've faced really terrible times. Context matters.
Once this election is over, we'll move. And the mood will change. Maybe a lot.
The opinions expressed in this commentary are solely those of Frank Sesno.
E-mail to a friend

All About George W. Bush • Recessions and Depressions