(CNN) -- Americans hit the polls Tuesday in numbers that officials across the country believed would shatter election turnout records.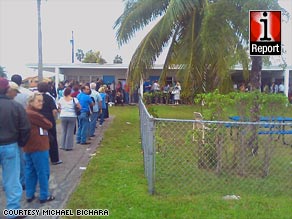 Michael Bichara waited 2 1/2 hours to cast his ballot Tuesday in Westchester, Florida.
Although more than 24.4 million people had already cast early or absentee ballots by Monday, the continued high volume of voters had people across the United States braving long lines.
"People were there in the rain, in the cold, with their children. People close to the 100-year-mark, with their walkers and their chairs," said Elmira N. Luckey, a mental health counselor who voted in Richmond, Virginia.
Luckey said she heard some people in the line complain about the rain, but added all those complaints were followed up with "But I'm here, and I'm gonna stay here."
In Upper Darby, Pennsylvania, near Philadelphia, township residents and Lincoln University students endured lines that lasted as long as 11 hours and stretched past the state's closing time of 8 p.m.
Jacintha Johnson, a senior at the historically African-American school, told CNN that she got in line at 7:30 a.m. and voted at 6 p.m.
"Practically the entire school was out there," she said. "It started to rain. Students were complaining about being hungry. The school provided some snacks, finally, at about 10 o'clock in the morning."
Callers into the CNN Voting Hotline reported waits in the St. Louis, Missouri, suburbs of Jennings and Velda City as long as four to six hours. The county's board of elections assistant director Dick Bauer said a lengthy ballot and what he expected to be a record turnout slowed the process.
Election officials throughout Missouri reported extremely high turnout rates, on track to meet the state's projected 76 percent voter turnout rate, said Secretary of State spokesperson Laura Egerdal. While that doesn't meet the 77 percent voter turnout the state reached in 1992, the higher number of registered voters will likely translate to a larger number of overall votes, Egerdal said.
In the battleground state of Virginia, voters reported waits as long as five hours in Norfolk. In nearby Chesapeake, about 50 percent of the city's registered voters showed up at the polls Tuesday morning.
"We started the line at about 10:30 a.m., and we did not get done until 3:30 p.m.," said Jessica Edwards, who voted in Norfolk.
In Roanoke, Virginia, voter Valerie Garner was "flabbergasted by the lines" at her polling place in a largely African American precinct. Garner, a freelance reporter, arrived at 5:50 a.m., joining voters who had already been there for more than an hour. Share your Election Day experiences with CNN
Don't Miss
Nancy Rodrigues, executive secretary of Virginia's Board of Elections, said that she expected 75 percent of the state's voters to cast ballots -- up from less than 60 percent in 2004.

See photos of Americans at the polls »
Michael Bichara waited 2 ½ hours to vote in Westchester, Florida, a suburb of Miami. He "was kind of hoping so many would vote early that it wouldn't be that bad. When I got there, I was like, 'oh crap!'"
In Florida, early voting accounted for more than 4 million votes out of 11 million eligible voters.
At the University of Central Florida in Orlando, students waited as long as three hours to vote.
The lines at UCF were a result of many people showing up to vote without having registered in Florida, and a very small number of students voting early, according to Bill Cowles, the supervisor of elections in Orange County.
"The excitement on campus here is just incredible on both sides," said iReporter Robert Gysi, a supporter of Sen. John McCain who watched the crowds from his dorm room at UCF.
Across the country at the University of California, Los Angeles, campus officials said more than 8,000 new registered voters were expected to turn out among the 30,000-plus student body population.

Hear about some Californians' voting experiences »
Pat McQuire reported the lines were "incredible" in Hyattsville, Maryland, stretching about a quarter of a mile. The president of Trinity Washington University arrived around 6:15 a.m. and cast her ballot around 7:30 a.m.
But not everyone had to face heavy wait times.

Watch a New Jersey voter describe his experience as "smooth sailing" »
June Smith said she was surprised to find no one waiting to vote at 9:15 a.m. at a Stroudsburg, Pennsylvania, polling place.
When Nathan Grebowiec arrived at his Plainville, Kansas, polling place, the only person ahead of him in "line" was his wife.
Nevertheless, attendance at Kansas polling places was larger than officials had seen in that state; the secretary of state's office predicted 78 percent -- more than 1.3 million voters -- would turn out.
Rebecca Halton, spokeswoman for the Pennsylvania secretary of state's office, said her office had no hard numbers, but that "very high turnout" was being reported throughout the state. Election officials had advised counties to prepare for as many as 80 percent of the state's registered voters to turn out.

See voter turnout rates in 2004 »
Amidst "brisk and orderly" voting, Ohio's secretary of state also anticipated 80 percent of its eligible voters would cast their ballots. The current highest turnout percentage of that Midwestern battleground state is 77.15 percent, according to figures on Secretary of State Jennifer Brunner's Web site.
Voters across Texas were casting ballots without major delays or problems, said Ashley Burton, a spokeswoman for the secretary of state's office.
"If there are any problems anywhere, we haven't heard about them," Burton said.
Texas Secretary of State Hope Andrade predicted a 68 percent turnout rate -- a 12 percent increase from 2004.
E-mail to a friend

CNN's John Couwels and Stan Wilson contributed to this report.
All About U.S. Presidential Election • Elections and Voting