From Pam Benson
CNN National Security Producer
WASHINGTON (CNN) -- The global economy is tanking, U.S. forces remain tied up in Iraq, Afghanistan is on a downward spiral -- one might wonder why anyone would want to be U.S. president during these trying times.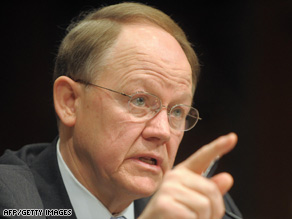 Economic and population growth will strain resources, says National Intelligence Director Mike McConnell.
Recently, the nation's chief intelligence officer weighed in, painting an even more somber picture of a far more complicated world.
National Intelligence Director Mike McConnell looked beyond the immediate future, focusing on what his analysts are telling him about the challenges the world community is likely to face by 2025. It isn't pretty.
Speaking to an annual conference of intelligence officials and contractors, McConnell said demographics, competition for natural resources and climate change will increase the potential for conflict.
President-elect Barack Obama may get a glimpse of some of those challenges on Thursday. McConnell is expected to lead Obama's first top-secret intelligence briefing, according to U.S. officials familiar with the process.
A team of intelligence briefers has been named and is ready to discuss with Obama the Presidential Daily Brief, similar to the one provided to President Bush, says a message from CIA Director Michael Hayden to CIA employees obtained by CNN.
According to McConnell's outlook, economic and population growth will strain resources. "Demand is projected to outstrip the easily available supplies over the next decade," he said at the annual conference.
The intelligence community's forecast indicates oil and gas supplies will continue to dwindle and production will be concentrated in unstable areas, he said. And there appears to be no relief at hand.
McConnell said studies have shown that new energy technologies -- such as biofuels, clean coal and hydrogen -- generally take 25 years to become commercially viable and widespread.
The lack of access to safe, reliable water will reach unprecedented levels over the next 20 years, he said, and 1.4 billion people in 36 countries are likely to face water shortages that will have a substantial impact on food production.
"Climate change is expected to exacerbate those resource scarcities," he said.
McConnell spoke of the unprecedented transfer of global wealth from West to East. By 2025, China is projected to be the second-largest economy and on its way to becoming the largest. India will grow to be the second- or third-largest economy.
All of this adds up to an unstable future. "Given the confluence of factors from a new global international system, increasing tension over natural resources, weapons proliferation ... we predict an increased likelihood for conflict," McConnell concluded.
Among the problems that aren't going away is terrorism -- an issue that did not get as much play as it initially appeared it would during the presidential campaign. McConnell said the descendants of long-established terrorist groups "will inherit organizational structures, the command and control processes and the training procedures necessary to conduct sophisticated attacks."
He said he is particularly concerned that a terrorist group will acquire and use biological agents to create casualties greater than the September 11, 2001, attacks.
In addition, he warned that a nuclear-armed Iran would "sow the seeds of instability and potential conflict" in that region on a scale that could affect the entire world.
Although the risk of a nuclear attack is "very low" over the next 20 to 30 years, McConnell said, "That possibility is grayer in the future than it is today."
So what does this mean for the new president?
"After the new president-elect's excitement subsides after winning the election, it is going to be dampened somewhat when he begins to focus on the realities of the myriad of changes and challenges we are going to face in the future," McConnell said.
E-mail to a friend

All About Mike McConnell • Barack Obama