From Javier Doberti
CNN
BUENOS AIRES, Argentina (CNN) -- Latin American leaders expressed optimism Wednesday that Barack Obama's election to the presidency of the United States would lead to better relations.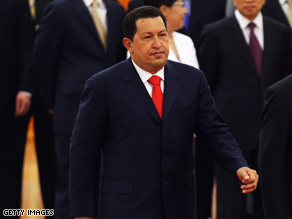 Veneuzelan President Hugo Chavez says the election of "an African descendent" is historic.
"It is a message of hope," said Jorge Taiana, Argentina's minister of foreign affairs.
"A message of hope and evidence that a cycle in the world is closing, a cycle dominated by a neoliberal ideology and by a policy of unilateralism and imposition of its positions."
Bolivian President Evo Morales, who recently stopped cooperating with U.S. Drug Enforcement Administration agents working to stem the flow of cocaine northward, called Obama's triumph "historic."
"In the name of the government of Bolivia, I congratulate him," he said about Obama's victory.
"It is historic. My great desire is that the new government end the blockade of Cuba and withdraw its troops from other countries, and I hope that relations with the United States improve."
Don't Miss
In Venezuela, the foreign ministry of the government of President Hugo Chavez congratulated Obama and called for the establishment of new relations between the two countries.
"The historic election of an African descendent to lead the most powerful nation in the world is the symptom that the change that has been gestating from the south of the Americas could be knocking at the doors of the United States," Chavez said, referring to the hemisphere's increased number of leftist governments.
The Colombian government, which has been the Bush administration's closest ally in Latin America, also congratulated Obama and reiterated its readiness to continue working on matters of mutual interest to strengthen ties between the two countries.
Brazilian Foreign Minister Celso Amorim indicated that, despite good relations with the United States, he hopes "that the change in government results in an easing in relations with Latin America, especially with Venezuela and Cuba."
E-mail to a friend

All About U.S. Presidential Election • Elections and Voting