(CNN) -- Tuesday night's victory for Obama had supporters all the world over jumping, dancing, and cheering in the streets. iReporters in cities around the globe captured the excitement of the election outcome.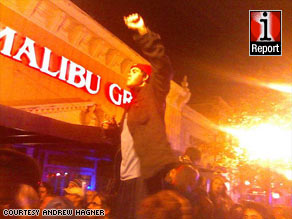 Indiana University student Andrew Hagner celebrates with fellow students in downtown Bloomington.
In Washington, D.C., the party was still going strong at 2:30 a.m.
Thrilled Obama supporters filled the streets, including Dupont Circle, Pennsylvania Avenue, in front of the White House, and U Street, the cultural center of Washington's African-American community.
"Those of us in D.C. live with politics and messages every day," said first-time voter and Obama supporter Yassir Islam. "I think it's like a miracle -- I think people are just overwhelmed and overcome by his message." iReport.com: Dancing on U Street
Many Chicago, Illinois, residents attended Obama's rally at Grant Park to watch the election results. And perhaps not surprisingly, the park went crazy as the election was called.
"Whenever we got a state they put it up on the screen and everyone cheered," said Tave Johnson, who attended the rally. "People are just happy to be here." iReport.com: 'I never guessed it would happen'
"This is like nothing I've ever seen before," said Eric Tinoco, who attended the rally. "I've seen Bulls rallies, White Sox rallies, I've never seen anything like this. The entire world has descended on Chicago. I would describe the atmosphere as 'electric.'" iReport.com: 'Like nothing I've ever seen'
Streets in New York City streets were so crowded that traffic could barely make it through.
"There was just, like, spontaneous combustion," said Darren Kawa, who lives in the East Village. "People started pulling out drums and then they started pulling out pots and pans and then they started pulling out umbrellas. It just got packed. Buses were coming through, taking pictures of people mobbing the streets." iReport.com: Streets packed for Obama
"People started forming a party and took over the streets," added Dinesh Penugonda, who was losing his voice from yelling and singing. "It was crazy. Everyone was chanting, singing the national anthem. Lots of American flags." iReport.com: 'When he won, you could hear people screaming'
College students around the country flew out of their dorms and flooded campuses as Obama's victory was announced.
University of Illinois students "poured into the streets, waving flags and carrying signs," according to graduate student Jaclyn Sprawka. iReport.com: Popping champagne, standing on trash cans
At the University of North Carolina at Chapel Hill, students rushed Franklin Street -- a tradition generally reserved for big basketball victories. iReport.com: 'The scene was incredible'
Students gathered outside and saluted at San Jose State University, and one student "made a very moving speech," said student Amy Coleman. iReport.com: 'They were very moved'
University of Maryland students paraded down the streets of College Park, cheering and sounding their car horns. iReport.com: Students take over campus, block traffic
And Americans weren't the only ones celebrating Obama's win. Supporters in cities around the world were just as thrilled about the outcome -- and had similar reactions.
In Jerusalem, Israel, Daniel Dreifuss joined a group of Obama supporters at a bar to watch the election results.
"Fans in Jerusalem cheered and celebrated when they found out that their favored candidate won the election and made history," he wrote in his iReport. iReport.com: 'History as it happens'
And in Paris, France, a party for American Democrats was filled to capacity and had to turn people away.
"Every time a new result was posted the crowd would erupt in yells and screams," said Thomas Cohan, who estimates that about 1,500 people attended the party. "It was like a rock concert. Words can't describe the atmosphere at this event." iReport.com: Parisian party for Obama
Obama even has supporters in Antarctica.
Chris Kotrala and his fellow researchers at McMurdo Station all voted absentee. Kotrala estimates that about 35 people attended the station's party for Obama. iReport.com: 'Very proud to vote from Antarctica'

E-mail to a friend