(CNN) -- In his first public remarks since delivering his victory speech three days ago, President-elect Barack Obama vowed Friday that restoring the nation's economic equilibrium will be a priority of his administration.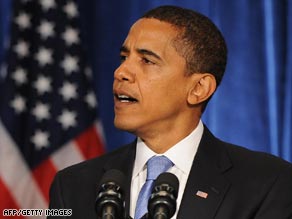 President-elect Barack Obama takes questions from reporters Friday in his first post-election news conference.
"I do not underestimate the enormity of the task that lies ahead," Obama told reporters at the Hilton Hotel in Chicago, Illinois. "We have taken some major action to date, and we will take further action."
Obama said that passing a stimulus package will be his first move if the lame-duck Congress fails to do so before he takes office January 20.
"It's not going to be easy for us to dig ourselves out of the hole that we're in," he said, flanked by Vice President-elect Joe Biden and members of his transition economic advisory board.
"But America is a strong and resilient country, and I know that we will succeed if we put aside politics and partisanship."
Obama pointed to Friday's release of unemployment figures and bad news from the auto industry as part of the reason that his administration will have to move quickly on the economic crisis.

Watch Obama lay out his economic plan »
"We are facing the greatest economic challenge of our lifetime, and we are going to have to act swiftly to solve it," Obama said.
Obama expressed gratitude to President Bush for his invitation to White House and the promise the outgoing leader has made to keep him fully informed about the state of the nation.
Don't Miss
Obama said he would work together with Bush in bipartisan spirit to help the country move forward.
Responding afterward to the news conference, one GOP lawmaker said he was "encouraged by Barack Obama's idea that it is time to put the partisan politics aside and work to help us all."
"We have a difficult situation in front of us, and it is impacting individuals at the heart of their being," Sen. Tom Coburn, R-Oklahoma, said on CNN.
Obama said after assuming office he would "confront this economic crisis head-on by taking all necessary steps to ease the credit crisis, help hard-working families and restore growth and prosperity."

Watch Obama talk about help for the middle class »
"We need a rescue plan for the middle class that invests in immediate efforts to create jobs and provide relief to families that are watching their life savings disappear."
He vowed to extend unemployment benefits for workers, to help families avoid foreclosure and to aid small businesses and strapped state and municipal governments as well as the U.S. auto industry, which has been pounded by plummeting sales.
"The auto industry is the backbone of American manufacturing," he said, promising that his transition team will work to "help the auto industry adjust."
On Friday, General Motors Corp., the nation's largest automaker, reported a huge loss much worse than expected -- $4.2 billion -- and warned it's in danger of running out of cash in the coming months. Ford Motor Co. also reported Friday a $3 billion operating loss in the latest quarter.
The Labor Department's monthly jobs report Friday showed that the economy shed 240,000 jobs in October, bringing the year's total job losses to 1.2 million. The unemployment rate climbed from 6.1 percent to 6.5 percent, the highest it has been since March 1994.
On the foreign affairs front, Obama reiterated that he believes a nuclear-armed Iran would be "unacceptable," but he said any U.S. response to Tehran would not be in a "knee-jerk fashion." Obama said he would help mount an international effort to keep Iran from becoming a nuclear threat. iReport.com: What's your message for Obama?
Obama said he would move with "deliberate haste" to fill his Cabinet posts.
Earlier Friday, a source involved in the Cabinet gathering process said Obama is considering a mix of Washington insiders and high-profile business executives to head Cabinet positions.
Interest in the makeup of Obama's economic team is high. CNNMoney.com: Obama's business brain trust
Before the press conference, Obama and Biden met with a 17-member council of economic advisers. Among the panelists were former Treasury Secretaries Lawrence Summers and Robert Rubin, former Fed Chairman Paul Volcker and billionaire businessman Warren Buffett.
"This is one of the first times that I can remember that the secretary of the Treasury is going to be almost as important as the secretary of state," said CNN senior political analyst David Gergen, who served in the Reagan and Clinton administrations.
Names circulating for the treasury secretary position include Timothy Geithner, Summers and Volcker.

Possible appointees for Obama's administration »
For secretary of state, Sen. John Kerry, D-Massachusetts, is high on the list, said the source involved in the process. Sen. Christopher Dodd of Connecticut, a former presidential candidate who later endorsed Obama in the Democratic primaries; New Mexico Gov. Bill Richardson; and former U.N. Ambassador Richard Holbrooke also are interested in the job, the source said. iReport.com: Who should be in Obama's Cabinet?
For defense secretary, indications are the current defense chief, Robert Gates, will stay "for a certain period," the source said. Gates, the former CIA director under President George H.W. Bush, has received bipartisan praise for his leadership at the Pentagon in the last two years.

Watch how Obama's inner circle is taking shape »
Arizona Gov. Janet Napolitano is said to be a "very real possibility" for U.S. attorney general, the source said.
For secretary of commerce, Leon Panetta, former White House chief of staff in the Clinton administration; Chicago businesswoman Penny Pritzker; University of California economist Laura Tyson; and Time Warner Chairman Dick Parsons are all under consideration, according to the source. Time Warner is the parent company of CNN.
Obama on Thursday named U.S. Rep. Rahm Emanuel of Illinois as his chief of staff.

Watch to see who Emanuel is »
A source with the Obama transition team said a plan to name David Axelrod a senior adviser to the incoming president is "in the works."
Observers believe Robert Gibbs, the communications director for Obama's presidential campaign, will become the presidential press secretary.
Obama won the presidency with 364 electoral votes -- nearly 100 more than needed. On Friday, CNN projected Obama the winner in North Carolina, which has 15 electoral votes.
E-mail to a friend

CNN's Candy Crowley, Gloria Borger, Suzanne Malveaux, John Helton, Kristi Keck and Alexander Mooney contributed to this report.
All About Barack Obama • U.S. Presidential Election