From Jim Acosta
CNN
WASHINGTON (CNN) -- The transition team for President-elect Barack Obama has indicated it plans to hit the ground running with what could be big changes for the country.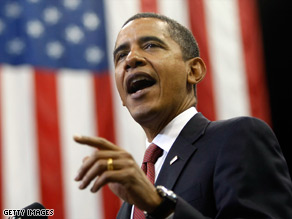 President-elect Barack Obama has put forth an aggressive agenda for his administration, supporters say.
But that massive agenda has Republicans -- and some Democrats -- wary of moving too fast.
Democrats are eyeing an ambitious agenda with plans to take on the economy, health care, energy and education -- issues that are all intertwined, according to a leader of Obama's transition team.
"So these are all core, if you will, economic questions, and they need to be tackled together, and I think he'll have a program and a strategy to move aggressively across all those fronts," John Podesta said Sunday on CNN's "Late Edition."
A similar message is coming from Rep. James Clyburn, one of Obama's chief allies in Congress.

Watch more on Obama's aggressive agenda »
"We are in crisis mode. We've got educational crises, we've got health care crises, we've got a financial crisis, we've got consumer protection problems. These things must be managed," said Clyburn, the majority whip.
House Majority Leader Steny Hoyer, D-Maryland, is downplaying expectations to fulfill all campaign promises immediately, given the state of the economy.
"Obviously, we're not going to do health care in the first month or two," Hoyer said, according to The Washington Post.
Rep. Eric Cantor, R-Virginia, predicted "a willingness to try and get things done" among Republicans in Congress working with Obama as long as he doesn't veer to the left.
"And what we're going to be faced with when we come back to Congress in January is a president who probably will be facing extraordinary challenges at a historic level," Cantor said on "Fox News Sunday."
"But at the end of the day, I think you will see a Republican Party in Congress serving as a check and a balance against Mr. Obama's power and Speaker [Nancy] Pelosi's power," he said.
Sen. Mel Martinez, R- Florida, said that the new administration and leadership in Congress need to focus first on the "common-ground agenda items."
"Find ways in which we can put people back to work and we can get our economy running again. Look for that checklist of things where there can be common ground, stay away from those items where, frankly, there'll be division and there'll be rancor and there'll be acrimony," Martinez said on NBC's "Meet the Press."
Leading Democrats are looking to Obama to get moving on the economy, even before President Bush leaves office.
Pelosi and Senate Majority Leader Harry Reid, D-Nevada, have said they would like to see some of the money authorized in the Wall Street bailout used to help rescue the big car companies in Detroit, Michigan.
Podesta said that the incoming administration also is conducting an extensive review of Bush's executive orders, looking for quick changes that Obama can make from his first day in office.
"As a candidate, Sen. Obama said that he wanted all the Bush executive orders reviewed and decide which ones should be kept and which ones should be repealed and which ones should be amended, and that process is going on. It's been undertaken," Podesta told "Fox News Sunday."
Podesta said Obama's team will be "looking at -- again, in virtually every agency -- to see where we can move forward, whether that's on energy transformation, on improving health care, on stem cell research."
Podesta said there is a lot the president can do without waiting for Congress, and voters can expect to see Obama do so to try to restore "a sense that the country is working on behalf of the common good."
E-mail to a friend

All About Barack Obama • John Podesta • Nancy Pelosi