(CNN) -- It's been just a little more than a week since America's unprecedented, often heated, 2008 presidential election. Along with Sen. Barack Obama's historic win, Gov. Sarah Palin of Alaska made some history -- and waves -- of her own as the vice presidential running mate of Sen. John McCain.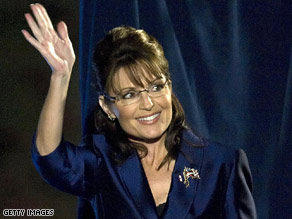 Sarah Palin waves to supporters on Election Night.
She drew huge crowds at her campaign stops, garnered intense media interest and brought big ratings to "Saturday Night Live" as comedian Tina Fey impersonated her in several political skits.
Palin appeared on CNN's "Larry King Live" on Wednesday to discuss the historic campaign, how she thinks she affected the Republican ticket, the concession speech she never got to make, her family's coverage in the media and her plans now that the election is over.
The following is an edited version of the interview:
Larry King: When Sen. Ted Stevens was found guilty, both you and Sen. McCain called for him to step down. That has not happened. He was re-elected. What should he do now?
Sarah Palin: I said before that election, as he had been found guilty on the seven counts, that he should step down.
Now he chose not to and voters in Alaska, at least thus far, until those final ballots are counted, it looks like they are re-electing Sen. Stevens. And that's the will of the people. I'm not a dictator. I'm not going to yank anything out from under the will of the people.
Now it will be up to the U.S. Senate to decide what happens next.

Watch highlights of Larry King's interview with Gov. Palin »
King: Is that the kind of post you would want some day -- the Senate?
Palin: You know, not necessarily. I'm not going to close any doors that perhaps would be in front of me and would allow me to put to good use executive experience and a world view that I think is good for our nation. I'm not going to close any door there in terms of opportunity that may be there in the future. iReport.com: What's next for Sarah Palin?
But at this point, I love my job as governor. There's a tremendous amount of work to do in Alaska.
King: Our new CNN/Opinion Research Corp. poll shows that 49 percent of adult Americans have a favorable feeling about you and 43 percent as unfavorable. In retrospect, do you think you might have hurt the ticket?
Palin: If I hurt the ticket at all and cost John McCain even one vote, I am sorry about it, because John McCain is a true American hero. He's got great solutions in terms of the challenges that are facing America right now, with national security and needing to get our economy back on the right track.
Again, I'm sorry if I cost him any votes, if I did.
Don't Miss
King: What role do you think you have in the party? How do you see yourself down the road?

Watch if Palin could be the next GOP star? »
Palin: What I can do, specifically, in helping our nation become energy independent, of course, comes from my experience as an oil and gas regulator in a huge energy-producing state and now as governor of that state. We know that we have the domestic solutions and the domestic supplies of energy. Domestic solutions that are at our fingertips -- I want to help lead in that area.
Also, what I can do as a Republican governor is do all that I can in my state and, hopefully, in the nation, also, in helping our families who have children with special needs. It's an issue near and dear to my heart. It resonated well throughout the campaign, also.
King: Are you ready to run for the presidency? Is that something that would interest you?
Palin: Again, I'm not going to close any doors of opportunity that perhaps are open out there in the future. Not having a crystal ball, I do not know what those opportunities will be. iReport.com: Palin's ready for 2012
But at this point, I'm very happy to get to serve my constituents in the great state of Alaska and start contributing our state more to national security and economic prosperity across America.
King: Should you have not done the Katie Couric interview?
Palin: Sure, I should have done the Katie Couric interview. Her questions were fair. ... Obviously, being a bit annoyed with some of the questions, my annoyance shows through. I am who I am, though, and I call it like I see it. Some of those questions, you know, regarding what do I read up in Alaska, were, to me, a bit irrelevant.
But there was nothing off-base, unfair about it. Certainly, I should have done the interview. To attribute that interview to any kind of negativity in the campaign or a downfall in the campaign, I think it's ridiculous. In retrospect, in hindsight, I wish I would had more opportunities or that we would have seized more opportunities to speak more to the American people through the media.
King: Why didn't you?
Palin: I didn't call the shots on a lot that strategy. But I'm not going to look backwards and point fingers of blame in regard to the strategy. And just suffice it to say, it's very, very important for candidates to be able to speak to the American voter.
King: Katie Couric, by the way, said last night that she thinks you should keep your head down, work really hard and learn about governing before contemplating a presidential run. What are your thoughts about her saying you should learn about governing?
Palin: I'd say thank you, Katie Couric, for your advice. I won't reciprocate in giving her any advice, that's for sure, because I have respect for her and the profession that she is in. I would have greater respect, though, for the entire profession called mainstream media if we could have great assurance that there's fairness, that there's objectivity throughout the reporting world. ...
I started out as a journalist. It's that important to me that that cornerstone of our democracy is given the credence and credibility that it deserves.
King: But you do admit you should have done more (interviews)?
Palin: I would love to have done more. Yes. Yes.
King: During the campaign, you expressed concerns about Obama's lack of executive experience and characterized him as "palling around with terrorists." Do you fear the United States under his presidency -- do you fear for the United States?
Palin: I don't have fear, I have optimism. Barack Obama is going to surround himself with those who do have executive experience. There was nothing mean-spirited -- there was no negative campaigning when I called Barack Obama out on his associations. You know, we're talking specifically, of course, about Bill Ayers -- an unrepentant domestic terrorist, who campaigned to bomb our United States Capitol and our Pentagon.
I don't think that there is anything wrong with calling someone out on their associations, their record, their plans. I expect to be called out -- and so did John McCain -- on his associations and our record.
I'm proud of Barack Obama. I pray for him, his family, the new administration. I look forward to the good things that are in store for this nation.
King: Are you going to go to the inaugural?
Palin: I haven't been invited. It would be something, perhaps, if I'm not too busy up there in the state of Alaska, I'd love to.
King: Did you want to make a concession speech?
Palin: I had some very nice words penned ready to deliver it. It was going to just be a sweet shout-out to Sen. McCain and all that he has overcome and the challenges that he has met and the victories within his own life and his character.
I had good words penned there that I would have loved to have been able to express. But John McCain is a very, very humble man. It was decided that -- at the very last minute that, no, he would do the concession speech solely. That's our right. That's, you know, that's their call. That's the strategists' call and John McCain's.
King: Were you very sad when you learned the result?
Palin: You know, sad because I knew had hard that our ticket had worked. Again, I'm convinced today, as much as I was along the campaign trail, that John McCain is a true American hero and he does have solutions that need to be...
King: You said you were surprised that your children became part of the campaign story. Wasn't that kind of naive?
Palin: Well, it wasn't naive, not after Barack Obama came out and said that his wife was off limits. Why should my children, then, have been this assumed target? And they were and that was unfair. But, yes, I thought it was ridiculous, not so much the reporting on my children, but the lies that were told about my children and about my own record. That -- you know, stupid things, Larry, you know, like who is Trig's real mother?
And mainstream media wouldn't correct the erroneous assumptions or suggestions in a story like that? That was ridiculous.
King: Something all mothers fear, though, is the knowledge that her daughter is pregnant. Was that very hard for you to take?
Palin: Well, what do you think, Larry? Of course.
You know, I looked at her and thought -- and I thought, Bristol, honey, you're going to have to grow up really fast. She is a strong and kind-hearted young woman. She's going to make a great mom. She is very strong. She's going to be just fine.
But Bristol has an opportunity, at this point, also, to reach out to other young American women and let them know that these are absolutely less than ideal circumstances that she or any other unwed teenage mother are in. And it is not something to glamorize.
King: What do you make of all the clothes stories, the $150,000 stories?
Palin: I think that was the most ridiculous part of the campaign was the whole clothes story. They weren't my clothes. They aren't my clothes. I don't have the clothes. ...
The whole clothes issue, that's part of the periphery, kind of the pettiness that was involved in the campaign that had absolutely nothing to do with policies, plans, records, values, convictions, kind of ridiculous.
King: Do you pledge to the people that you will serve out your term?
Palin: I pledge to the people of Alaska I will do anything and everything that I can to progress the great state of Alaska. I will do what the people of Alaska want me to do.
E-mail to a friend

All About Katie Couric • John McCain • Alaska • Ted Stevens