(CNN) -- Former Republican U.S. vice presidential candidate Sarah Palin has said she is optimistic about Barack Obama's incoming administration and that she prays for the president elect and his family.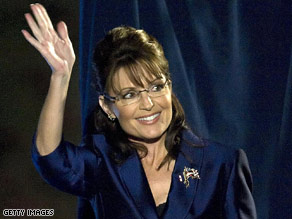 Gov. Sarah Palin waves to supporters on Election Night.
Palin drew huge crowds at her campaign stops, garnered intense media interest and brought big ratings to "Saturday Night Live" as comedian Tina Fey impersonated her in several political skits.
The Alaska governor appeared on CNN's "Larry King Live" on Wednesday to discuss the historic campaign, how she thought she affected the Republican ticket, the concession speech she never got to make, her family's coverage in the media and her plans now that the election is over.
Palin emphasized her admiration for the president-elect in the interview. "I'm proud of Barack Obama," she told King. "I pray for him, his family, the new administration. I look forward to the good things that are in store for this nation."
She said that despite characterizing Obama during the campaign as inexperienced and "palling around with terrorists" she had no fears for the United States under his presidency.

Watch highlights of Larry King's interview with Palin »
"I don't have fear, I have optimism," Palin said. "Barack Obama is going to surround himself with those who do have executive experience.
"There was nothing mean-spirited -- there was no negative campaigning when I called Barack Obama out on his associations. You know, we're talking specifically, of course, about Bill Ayers -- an unrepentant domestic terrorist, who campaigned to bomb our United States Capitol and our Pentagon.
"I don't think that there is anything wrong with calling someone out on their associations, their record, their plans. I expect to be called out -- and so did John McCain -- on his associations and our record."
Palin said she did not regret her interview with Katie Couric of CBS and wished she had been more available to the media during the campaign.
"I should have done it, yes. And her questions were fair," Palin told King. "Obviously being a bit annoyed with some of the questions, my annoyance shows through."
Palin had some well-publicized fumbles during interviews with Couric in late September leading up to her vice presidential debate.
"Certainly I should have done the interview. And to attribute I think that interview to any kind of negativity in the campaign or a downfall in the campaign, I think it's ridiculous."
Speculation is mounting that Palin could have designs on the Republican presidential nomination in the next race for the White House. Watch if Palin could be the next GOP star? But as the 2012 buzz takes off, a new poll suggests that just less than half of all Americans have a favorable view of Palin.
Forty-nine percent of those questioned in a CNN/Opinion Research survey released Wednesday had a favorable opinion of Palin, with 43 percent viewing her unfavorably.

Watch whether Palin could be next Republican star »
That is lower than a previous poll, suggesting that favorable opinions of Palin are dropping among Americans.
Asked by CNN's King whether she was ready to run for the presidency, Palin refused to rule out a bid. "I'm not going to close any doors of opportunity that perhaps are open out there in the future. Not having a crystal ball, I do not know what those opportunities will be," she said.
"But at this point, I'm very happy to get to serve my constituents in the great state of Alaska and start contributing our state more to national security and economic prosperity across America."
Palin said she was sad when she heard the result. "You know, sad because I knew had hard that our ticket had worked. Again, I'm convinced today, as much as I was along the campaign trail, that John McCain is a true American hero and he does have solutions that need to be..."
She played down reports of a rift over her concession speech that never was. "I had some very nice words penned ready to deliver it. It was going to just be a sweet shout-out to Sen. McCain and all that he has overcome and the challenges that he has met and the victories within his own life and his character.
"I had good words penned there that I would have loved to have been able to express. But John McCain is a very, very humble man. It was decided that -- at the very last minute that, no, he would do the concession speech solely. That's our right. That's, you know, that's their call. That's the strategists' call and John McCain's."
Palin also talked about how surprised she was that her children became part of the campaign story. "It wasn't naive, not after Barack Obama came out and said that his wife was off limits. Why should my children, then, have been this assumed target? And they were and that was unfair.
"But, yes, I thought it was ridiculous, not so much the reporting on my children, but the lies that were told about my children and about my own record. That -- you know, stupid things, Larry, you know, like who is Trig's real mother?
"And mainstream media wouldn't correct the erroneous assumptions or suggestions in a story like that? That was ridiculous."
King asked Palin about her daughter's pregnancy. "You know, I looked at her and thought -- and I thought, Bristol, honey, you're going to have to grow up really fast. She is a strong and kind-hearted young woman. She's going to make a great mom. She is very strong. She's going to be just fine.
"But Bristol has an opportunity, at this point, also, to reach out to other young American women and let them know that these are absolutely less than ideal circumstances that she or any other unwed teenage mother are in. And it is not something to glamorize."
E-mail to a friend

All About Katie Couric • John McCain • Alaska • Ted Stevens