MIAMI, Florida (CNN) -- Former Republican vice presidential nominee Gov. Sarah Palin sharply questioned expanding the federal economic bailout plan Thursday during her first extended remarks since the end of the presidential campaign.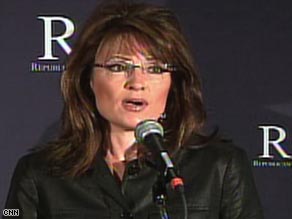 Alaska Gov. Sarah Palin talks to reporters at the GOP governors' group meeting Thursday in Miami, Florida.
Addressing fellow GOP governors and party leaders at the Republican Governors Association convention in Miami, Florida, Palin criticized the growing list of industries and others seeking federal assistance.
"We're hearing now more talk of additional taxpayer bailouts ... for companies, for corporations, perhaps even states now who may be standing in line with their hands out despite, perhaps, some poor management decisions on their part that helped tank our economy," she said.
Palin stressed the need for what she called greater economic "accountability and personal responsibility" while urging "conservative solutions to these economic challenges."
At a press conference earlier Thursday, Palin said that she and her fellow Republican governors were ready to put aside "extreme partisanship" and act if Washington fails to provide the leadership America needs.
She told them not to "let obsessive, extreme partisanship ... get in the way of doing what's right."
"I think that this group is going to be looked to and looked at for leadership that perhaps had been lacking in Congress and in Washington, D.C.," she said. "This group is going to be uniquely qualified to provide leadership in this nation."
Reflecting on the recent campaign, Palin said, "For us, it was not our time. It was not our moment."

Watch whether Palin has plans for 2012 »
She complimented President-elect Barack Obama, saying she wishes him "well as the 44th president of the United States. If he governs with the skill, and the grace, and the greatness of which he is capable, we're going to be just fine."

Watch Palin says she's ready to help Obama »
Palin also criticized the national media for wanting to "dissect the past" and "playing the pundit's role" for the 2012 presidential campaign.
"As far as we're concerned, the past is the past," she said. "We're focused on the future. [The future] is next year, and our next budgets, and the next reforms in our states."
Asked why she chose to hold her first formal news conference now, she replied, "The campaign is over."
The governor's first post-election appearance was not without controversy.
Some Republican governors told CNN they were not particularly happy with the way the RGA press conference was executed Thursday, saying they agreed to go as a show of GOP governors' unity, but they ended up feeling like silent Palin supporters, because it was clearly a press conference called for her.
The GOP governors spoke to CNN on condition of anonymity.
One called it awkward: "I'm sure you could see it on some of our faces."
Another Republican governor eyeing a presidential run in 2012 told CNN the event was "odd" and "weird," and said it "unfortunately sent a message that she was the de facto leader of the party."
In an interview with CNN, it was suggested to Mississippi Gov. Haley Barbour that there has been a feeling among some GOP governors gathered in Miami that Palin has been sucking up all the media oxygen.
Barbour shrugged off that suggestion."That's just somebody running down a rabbit trail. There's plenty of oxygen here," he said.
In another shift, Palin, who had been slated to take questions for 20 minutes or so, took just four reporter queries before Texas Gov. Rick Perry ended the news conference.
"We were running behind schedule," Perry said.
E-mail to a friend

CNN's Dana Bash contributed to this report.
All About Sarah Palin • Republican Party • Barack Obama