From Paul Steinhauser
CNN Deputy Political Director
WASHINGTON (CNN) -- Call it a case of great expectations.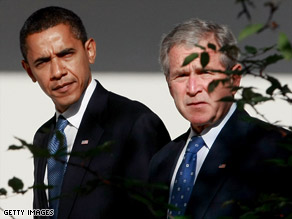 Most people believe President-elect Barack Obama will change America when he takes over from his predecessor.
A new national poll suggests that most Americans think Barack Obama will make major accomplishments as president of the United States.
Nearly two-thirds of those questioned in a CNN/Opinion Research Corp. survey released Thursday say President-elect Barack Obama will change the country for the better, with 25 percent saying Obama won't change the country and 9 percent indicating that he will change the country for the worse.
"He's inspired me and this entire nation with his fondness for change," said iReporter Brian Langkan of Elgin, Illinois. "I just hope that the bureaucracy and the typical procedures of Washington don't weigh him down or hold him back or lead him in a new direction."
Expectations are high not just in America but around the world.
"My fervent prayer is that there will be peace on Earth in all nations, and let all countries unite together to make this dream come true," said iReporter Shari Atukorala of Kandy, Sri Lanka. "To the President-elect Barack Obama: Sir, you can do this for all of us."
Don't Miss
The public thinks it's likely that Obama will improve race relations, improve economic conditions, bring stability to the financial markets, make the U.S. safer from terrorism, reduce the country's dependence on foreign oil, reduce global warming, win the war in Afghanistan and remove U.S. troops from Iraq without causing a major upheaval in that country.

Watch how Obama is deliberately picking his team »
"The bar is being set awfully high for an Obama presidency," CNN Polling Director Keating Holland said. "That's a pretty big to-do list."
Seventy-six percent say conditions in the country will improve four years from now, with the remaining 24 percent saying that's not likely.
Three-quarters of those polled also have a favorable view of Obama, up 12 points since the election. That number jumps to 99 percent when asked only of black Americans, and it drops to 41 percent when asked only of Republicans.
The overall 75 percent favorable rating "makes Obama the most popular president-elect in at least a quarter of a century," said Holland.
In November 1980, after his landslide victory over incumbent President Carter, Ronald Reagan's favorable rating was 67 percent. Eight years later, the elder George Bush had a favorable rating of only 50 percent immediately after his win in the 1988 election.
When Bill Clinton beat Bush four years later, his favorable rating was 60 percent just after the election.
And after the Florida recount ended in December 2000, President Bush had a 59 percent favorable rating.
The CNN/Opinion Research Corp. poll was conducted November 6-9, with 1,246 adult Americans questioned by telephone. The survey's sampling error is plus or minus 3 percentage points.
E-mail to a friend

All About Barack Obama • George W. Bush • The White House