(CNN) -- Congress kicked off a special lame-duck session Monday -- and a partisan battle over the fate of the nation's Big Three automakers.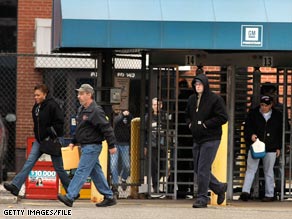 Workers leave a General Motors Powertrain plant in Warren, Michigan, last week.
Senate Democrats were trying to earn GOP support for their proposed bailout of the Big Three automakers that would use up to $25 billion of funds from the Troubled Asset Relief Program, or TARP, the $700 billion measure that passed in October to help bail out financial institutions.
Democrats would like to see a vote Wednesday, but some concede they probably don't have the support.
President Bush and GOP leaders in Congress say they'd be willing to lift some restrictions on an already-approved program to dole out $25 billion in loans meant to help U.S. automakers design more fuel-efficient vehicles.
"We're surprised that Senate Democrats would propose a bailout that fails to require automakers to make the hard decisions needed to restructure and become viable," White House Secretary Dana Perino said.
"It would add another $25 billion to the $25 billion already allocated for the auto industry, raiding the TARP of funds needed to stabilize our financial system and encourage new lending to help our economy grow.
"Congress should instead accelerate the existing $25 billion already appropriated for the auto industry by amending the Energy Department's loan program -- but only for those firms that make the difficult choices and do the restructuring necessary to become viable without additional taxpayer subsidies," Perino said.
Don't Miss
Senate Majority Leader Harry Reid, speaking on the Senate floor Monday, urged action on the plan to provide TARP money to automakers.
"If we move forward, we can protect American jobs, help American families and prevent our economy from falling further into a recession," he said.
A Senate Democratic aide said the bill "requires a long-term financial plan from any loan recipient, and includes robust language to provide for oversight and taxpayer protections and to limit executive compensation." Read a draft of the bill (PDF)
Reid said in the event his bill fails, there would be an alternative piece of legislation that focuses on unemployment insurance and relief for the auto industry's workforce.
House Democratic leaders and House Financial Services Committee Chairman Barney Frank, D-Massachusetts, met with Treasury Secretary Henry Paulson and Federal Reserve Chairman Ben Bernanke on Monday afternoon.
The meeting was to include an update on TARP and discussion about using those funds to help the Big Three.
Frank said a House version of the bill would require automakers to repay the loans in spring if they can't prove their viability. It also would limit bonuses paid by companies taking the federal money and reaffirm a commitment to more fuel-efficient vehicles.
Sen. Carl Levin, D-Michigan, is drafting legislation to throw a lifeline to Detroit, Michigan, home of the Big Three companies.
"One out of 10 jobs in this country are auto-related. Twenty percent of retail sales are auto-related or automobiles, so this is a national problem," Levin told NBC's "Meet the Press" on Sunday.

Watch what some say are the costs of letting the Big Three fail »
The automakers have come on hard times of late. Ford announced this month that it lost $3 billion last quarter. General Motors is trading at about $3 a share, the lowest figure at which its stock has traded in more than 60 years. Chrysler has announced numerous plant closings and thousands of job cuts as its sales have plummeted over the last year.
The Center for Automotive Research, a think tank in Ann Arbor, Michigan, that is pushing for a bailout, estimates about 2.5 million job cuts if just half of the Big Three's manufacturing capacity shuts down.
About 240,000 of those job losses would be at the automakers; 800,000 would be at various suppliers and dealerships; and another 1.4 million job losses would come from businesses that rely on automaker spending, the think tank estimates.
A letter is being circulated by Levin and Sen. George Voinovich, R-Ohio, to all senators for their signatures in support of the auto industry bailout. iReport.com: No choice but to bail out automakers?
The letter -- written to Reid and Senate Minority Leader Mitch McConnell -- says the Big Three "face rapidly evaporating operational liquidity" and "soon may not be able to continue to operate."
But some think the TARP money is for the financial system only.
"There's a line of companies, of industries waiting at Treasury just to see if they can get their hands on that $700 billion," Commerce Secretary Carlos Gutierrez said on CNN's "Late Edition" on Sunday. "That is for the financial system. It's to stabilize the financial system. That should not be used."
Sen. Bob Casey, D-Pennsylvania, said last week he can't condone using TARP funds for the auto industry when the money has yet to help homeowners facing foreclosure.
Sen. Richard Shelby, R-Alabama, one of the most vocal critics of the proposed lifeline, suggested Sunday that bailing out the Big Three would be a waste of taxpayer dollars because it would reward the companies for mismanagement.
Shelby, the ranking member on the Committee on Banking, Housing and Urban Affairs, further said in his remarks on NBC's "Meet the Press" that the government should allow the companies to file bankruptcy.

See how foreign car companies have flocked to the U.S. »
"They would be, in a lot of people's judgment, a lot better off to go through Chapter 11, where they could reorganize, get rid of the management, get rid of the boards -- the people who've brought them where they are today," Shelby said.

Watch CNN's Jack Cafferty explore whether the auto giant is worth saving »
Democrats say the automakers need the existing $25 billion in loans and an additional bridge loan just to survive through the year. However, many Democratic leaders say they realize the folly of bailing out Detroit without specifying Congress' expectations of the industry.
President-elect Barack Obama told CBS' "60 Minutes" on Sunday that Detroit needed help, but he opposes writing a "blank check." iReport.com: Reader believes auto bailout must come with "binding conditions"
Sen. Chris Dodd, D-Connecticut, who heads the Committee on Banking, Housing and Urban Affairs, said last week, "Clearly we shouldn't be writing checks without some clear conditionality of what's going to happen with that industry -- if they're going to change and get back on their feet again."
Democratic leaders would need 60 votes in the Senate to avoid a GOP filibuster, and as of last week, Dodd was certain they didn't have the numbers.
Gaining those numbers became more problematic Sunday, when Obama officially relinquished his Senate seat. Vice President-elect Joe Biden, a Delaware Democrat, is also expected to be absent from this week's wrangling.
The Senate Banking Committee will hold a hearing on the issue Tuesday and the House Financial Services Committee on Wednesday.
Despite the proposal's infinitesimal chance of succeeding, Democratic leadership aides said proponents will push for a vote this week. The pessimistic Dodd, however, has said his party should consider waiting for Obama to take office.
With Obama in office, the Treasury can act without legislation. Also, with all run-off elections decided, party leaders will know the exact makeup of the 111th Congress, though Democrats are not likely to garner a filibuster-proof majority in the Senate.
E-mail to a friend

CNN's Deirdre Walsh contributed to this report.
All About Chrysler Group • Ford Motor Company • General Motors Corporation • U.S. Senate