From Mike Mount
CNN Senior Pentagon Producer
WASHINGTON (CNN) -- A security pact between the U.S. and Iraqi governments will allow U.S. troops to finish the work it needs to do before leaving the country, a Pentagon spokesman said Wednesday.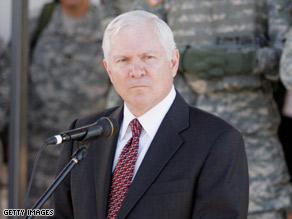 A Pentagon spokesman said Defense Secretary Robert Gates is briefing congressional members on the plan.
Defense Secretary Robert Gates was briefing Congressional members on the Status of Forces (SOFA) agreement, which gives troops the authority and time they need to conduct operations and train Iraqi forces to a sufficient level, Geoff Morrell said.
"The security situation has improved so dramatically, and the Iraqi security forces have improved so dramatically, that we are confident that if things continue to trend as they have been, our services will not be needed in Iraq come 2012," Morrell said.
President George W. Bush has already signed off on the agreement, which sets legal jurisdiction over U.S. troops and contractors and lays out timetables for withdrawal of U.S. forces.
The SOFA calls for all U.S. forces to fall back out of Iraqi cities by June 2009 and to be out of Iraq by the end of 2011. It is also being debated by the Iraqi Parliament.
"We believe this is an agreement that respects Iraqi sovereignty, which was paramount here, but at the same time provides us with the authorities to do the work we still need to do in Iraq," Morrell said.
Don't Miss
"If we had concerns, trust me, Secretary Gates and General Cartwright would not be up explaining this and supporting this to members of Congress," he said.
Morrell's comments were some of the strongest to be used regarding the need for U.S. troops in Iraq after months of administration officials rejecting timetables for troop withdrawals from Iraq.
Joint Chiefs Chairman Adm. Mike Mullen cautioned that some troops are already leaving early, but there is still discussion regarding whether troop withdrawals should be tied to the security situation on the ground.
"Clearly moving forward in a measured way, tied to conditions as they continue to evolve, over time, is important," Mullen said.
The election of President-elect Barack Obama has helped the Iraqis move the agreement along because Obama's plan to get troops out of Iraq resembles the desires of the Iraqis.
Obama has pledged to remove about 100,000 from Iraq by 2010, but has also said he would like to leave about 50,000 to assist Iraqis and to fight remaining al Qaeda forces inside the country.
E-mail to a friend

All About Robert Gates • The Pentagon • Iraq War • Barack Obama • George W. Bush