Editor's note: Campbell Brown anchors CNN's "Campbell Brown: No Bias, No Bull" at 8 p.m. ET Mondays through Fridays. She delivered this commentary during the "Cutting through the Bull" segment of Friday night's broadcast.
(CNN) -- Much has been made of the car company CEOs showing up for Congressional hearings in private jets to ask for a taxpayer-funded bailout.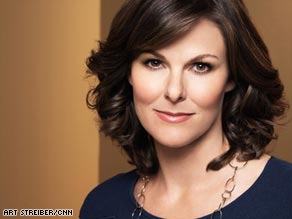 CNN's Campbell Brown says the Big Three automakers' CEOs need to put themselves in their workers' shoes.
Now, there is an argument that can be made about why the CEO of a major corporation might need a private jet. Those of us who fly commercial know what a miserable experience it is. Flight delays are the norm. If you have a really important meeting, you go the night before.
One could argue that the CEO of a billion-dollar company who is managing a crisis like the one we are having now, whose decision making impacts millions of jobs, doesn't have time or can't afford the risk of cancellations and delays that go along with commercial travel.
But don't you CEOs get the optics? This was a PR debacle. Your belated statements about needing your jets for security reasons just didn't cut it. Although, with each passing day that becomes a more legitimate defense, as people get angrier and angrier. Frankly, you should have just said "We are trying to save literally millions of jobs right now, and every second counts."
Don't Miss
Today GM announced it's giving up two of its corporate jets. Looks like GM is finally starting to get that appearances count and that shared sacrifice is the message of the day. Let's hope the other CEOs take heed.
This stuff matters. You're not talking to shareholders or staff members; you're talking to Congress. And Congress doesn't work for you; it works for millions of Americans who are struggling and getting pretty desperate for a way out. iReport.com: How is the auto industry's decline affecting you?
You need to figure out how to speak their language. Your credibility is on the line, and so is your business. You blew it once, and now Congress is giving you a second chance, even though plenty of people think you don't deserve one. Millions of jobs and millions of people's futures are on the line.
So for the moment, park the jet and put yourself in the shoes of that Michigan factory worker who is scared to death, and rightly so. And don't blow it again.
E-mail to a friend

All About U.S. Congress