(CNN) -- President-elect Barack Obama on Tuesday will unveil Peter Orszag as his nominee for director of the Office of Management and Budget, two sources close to Obama's transition operation told CNN.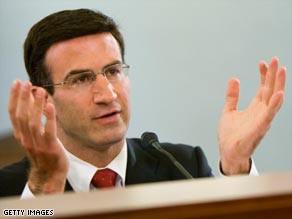 Peter Orszag is a veteran of the Clinton White House.
Orszag, the head of the Congressional Budget Office, is an expert on health care, pensions and Social Security policy. He worked at the Clinton White House as special assistant to the president at the National Economic Council and served on the Council of Economic Advisers.
Tuesday's announcement -- expected at a news conference in Chicago, Illinois -- would come a day after Obama unveiled his economic team, including New York Federal Reserve President Tim Geithner as his choice for treasury secretary and former Treasury Secretary Larry Summers as his selection for chief of the National Economic Council. Read about Obama's economic team
Obama on Monday may have hinted at an OMB announcement, telling reporters he would talk Tuesday about finding cuts in the federal budget to help dig the nation out of the fiscal crisis.
"Full recovery will not happen immediately," Obama said at a news conference in Chicago. "And to make the investments we need, we'll have to scour our federal budget, line by line, and make meaningful cuts and sacrifices as well, something I will be discussing further tomorrow."
As he unveiled his economic team Monday, Obama called the financial crisis one of "historic proportions" and said that he and the Bush administration are "united" in their efforts to get the economy back on track.
Don't Miss
He said there isn't "a minute to waste" when it comes to rebuilding the economy.
"My commitment is to do what is required. President Bush has indicated that he has the same approach, the same attitude," Obama said.
Obama's remarks came just hours after the federal government announced a massive rescue package for Citigroup -- which President Bush said he'd spoken about with Obama before it was announced.
Obama said Monday that he has asked his newly formed economic team to develop recommendations for his economic plan, which he outlined Saturday, and to consult with Congress, the current administration and the Federal Reserve on immediate economic developments over the next two months.
In selecting his economic team, Obama said he sought leaders who share his fundamental belief that "we cannot have a thriving Wall Street without a thriving Main Street."

Watch Obama call the economic crisis one of 'historic proportions »
Geithner helped manage Wall Street's financial meltdown earlier this year, overseeing the acquisition of Bear Stearns by JPMorgan Chase, the bailout of AIG and the collapse of Lehman Brothers. He was appointed as the New York Federal Reserve president in November 2003.
Summers served as treasury secretary in the Clinton administration. He was the chief economist of the World Bank from 1991 through 1993. Before his career in government, Summers taught economics at Harvard.
University of California-Berkeley economics professor Christina Romer has been chosen to be the chair of the President's Council of Economic Advisers.
The Council of Economic Advisers is a group of economists -- including three who are appointed by the president and need Senate confirmation -- who advise the president on economic policy. iReport.com: Share your thoughts on Obama's cabinet choices
Obama also announced Melody Barnes as director of the Domestic Policy Council and Heather Higginbottom as deputy director of the Domestic Policy Council.
Obama on Saturday offered an outline of his economic recovery plan to create 2.5 million jobs by 2011, saying American workers will rebuild the nation's roads and bridges, modernize its schools and create more sources of alternative energy.

Watch Obama outline his economic plan »
Details of the plan are still being worked out by his economic team, Obama said, but he hopes to sign the two-year, nationwide plan shortly after taking office January 20.
During the presidential campaign, Obama proposed a $175 billion stimulus package over two years, but some of his economic advisers have said recently that the package would need to be much larger.
Obama on Monday declined to speculate about how large the stimulus package would need to be, saying it's important for his economic team to come back with a recommendation.
"We have to make sure that the stimulus is significant enough that it really gives a jolt to the economy," he said. "We are going to do what's required to jolt this economy back into shape," he said.
Also this weekend, sources told CNN that Obama is expected to pick New Mexico Gov. Bill Richardson as secretary of commerce.
Obama aides also have told CNN that Obama is "on track" to nominate Sen. Hillary Clinton as his secretary of state after Thanksgiving.
Obama's picks mean that at least three former rivals from the Democratic presidential primaries will be in senior posts in the Obama administration: Richardson, Clinton and Vice President-elect Joe Biden.
E-mail to a friend

CNN's Jessica Yellin contributed to this report.
All About Barack Obama • U.S. Department of the Treasury • National Economy