By Jonathan Mann
(CNN) -- America loves its heroes and Barack Obama has already become one. In fact, he's become several.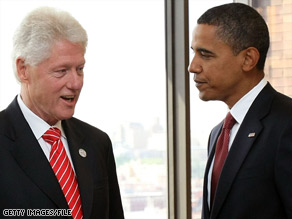 U.S. President-elect Barack Obama, right, with former U.S. President Bill Clinton, left.
Remember, Obama hasn't taken office as president, only glimpsed the Oval Office as a visitor and won't take over until January 20.
But already, he's being compared to the most remarkable leaders the United States has ever had.
The way some Americans talk, they're getting five presidents in one.
John F. Kennedy: Baby boomers get misty-eyed thinking about it -- and even Kennedy's own relatives have been comparing the two men. Like JFK when he took office in 1961, Obama is young, handsome and idealistic, promising a new generation of leadership. And his wife Michelle is also the most stylish White-House-wife-in-waiting since Jackie.
Franklin Delano Roosevelt: Roosevelt took office in 1933 in the midst of the Great Depression. His immediate burst of sweeping reforms became known as 'The First 100 Days.' Obama has promised his own fast start at tackling the biggest economic crisis since Roosevelt's time. He's even been reading-up about him.
Abraham Lincoln: Obama himself likes to talk about Lincoln, another tall, lanky lawyer who seemed like a long-shot for the presidency. Facing the challenge of the Civil War back in 1861, Lincoln gave his fiercest opponents powerful positions in his cabinet. That 'Team of Rivals' apparently inspired him to choose Hillary Clinton to be his secretary of state.
Bill Clinton: In his two terms as president from 1993 to 2001, Clinton led the longest period of economic growth in US history. Obama has already turned to several Clinton economic experts to join his new team. Some of Obama's supporters and critics are describing the incoming administration as Clinton's 'third term.'
Barack Obama: The fifth face will be Obama's own. He's already destined to be a historic president -- the first African-American.
But will Obama be a great one? Even a good one?
The Americans who are comparing him to those remarkable predecessors are putting a lot of faith in a man they barely know.
E-mail to a friend

All About Democratic Party • Barack Obama • Republican Party • George W. Bush