WASHINGTON (CNN) -- President-elect Barack Obama and Defense Secretary Robert Gates may have policy differences, but Gates said Tuesday he was "impressed" by statements Obama has already made on issues such as the Iraq War.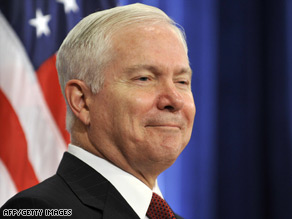 Secretary of Defense Robert Gates talks to reporters in Chicago, Illinois, on December 1.
A day after reluctantly agreeing to remain as secretary of defense in the incoming administration, Gates, 65, said he looked forward to taking an active stance on several key issues.
"I spent a long time hoping the question would never be popped ... and then yesterday, it became a reality," Gates told reporters. "It should go without saying that I have no intention of being a caretaker secretary."
He listed challenges -- including budget, acquisition and procurement reform, war strategy, care of the wounded and modernization and capitalization projects -- that he vowed to give his "personal attention."
Obama has called for U.S. troops to be withdrawn from Iraq within 16 months, and Gates said he does not necessarily oppose the president-elect's views.

Watch Gates discuss his views on Iraq »
"He also said he wanted to have a responsible drawdown, and he also said that he was prepared to listen to his commanders," Gates said. "That's exactly the position a president-elect should be in."
Gates said Obama impressed him last month when the two men met in the fire station at Ronald Reagan Washington National Airport. On the same day, Obama met with Bush and shortly before he met with Adm. Michael Mullen, chairman of the Joint Chiefs of Staff.
"I was impressed by his reaching out to Admiral Mullen, to come sit down and talk with him, and he has made clear that he wants to have a regular dialogue with the chairman and the chiefs and the commanders," he said.
Gates also said he was impressed by Michelle Obama's desire to work on behalf of military families.
"I think all of these send very positive signals to our men and women in uniform about the way the new commander-in-chief looks upon his responsibilities as commander-in-chief, but also as the person for whom all of these men and women in uniform work."
Gates confirmed that Mullen was en route to India after last week's series of terrorist attack in Mumbai, India.
Don't Miss
Gates said he has not registered with a political party, but considers himself a Republican, and noting that, until Monday, all of his senior appointments had been under Republican presidents.
He said that in the 60 years that the job of secretary of defense has existed, he is the first to be asked by an incoming president of either party to keep the job, and thanked President-elect Barack Obama "for his confidence in me."
Gates worked for more than two decades at the CIA and the National Security Council.
He turned down a request from President George W. Bush to serve as the first secretary of the Department of Homeland Security, which was created in response to the September 11 terrorist attacks. But in December 2006, he agreed to replace Donald Rumsfeld as secretary of defense.
Regarding the threat of terrorism in South Asia, Gates called on the United States to strengthen its partnership with Pakistan and help the nation assess involvement in last week's terror attacks in Mumbai.
"It clearly was the act of an extremist group that apparently was targeting Americans and Britons, but the truth is most of the people who were killed were Indian," he said. "So, it's important that we find out who did it and try and prevent it from ever happening again."
Gates said Afghanistan will be a priority for the Obama administration, but said the major responsibility must be borne by Afghans.
"It's very important for us to do everything we can to make sure the Afghans understand this is their fight, and they have to be out front in their fight," he said.
Gates deflected a question about increasing troop strength in Afghanistan, but talked at length about plans to ease the burden on the American military, which has been stretched thin trying to fight two wars.
He said he "will probably increase" the time at home between 12-month deployments from 12 months to 15 or 18 months.
"I think that process could begin perhaps as early as spring," he said.
He said he hopes that, "fairly soon, and especially with the drawdowns in Iraq, that we will begin to see a further decrease in stop-loss."
Stop-loss refers to the involuntary extension of a service member's active duty hitch beyond what was to be the end of their term of service.
E-mail to a friend

All About Robert Gates • Barack Obama • Michelle Obama • Iraq War • Afghanistan War