HONG KONG, China (CNN) -- Former President Bill Clinton said Wednesday he will have very little to do with Hillary Clinton's decisions in her role as secretary of state in the Obama administration.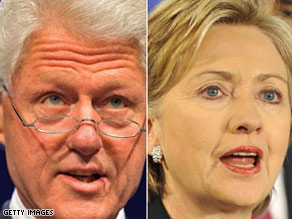 Bill Clinton says he'll try to be a "sounding board" for his wife as she assumes the role of secretary of state.
"I'll just try to be a helpful sounding board to her, but I don't think I'll do any more than that," Clinton told CNN during a trip to Hong Kong.
President-elect Barack Obama announced Monday that Hillary Clinton, the senator from New York, was his choice for secretary of state.
The former president said he and Sen. Clinton have always talked "about everything," and he called her advice "invaluable" throughout his career.

Watch Bill Clinton size up the issues »
"I really care about all these profound challenges that our country and the world are facing," he said. "But the decisions will have to be ultimately President-elect Obama's decisions to make about what we are going to do, what our policies are going to be."
Bill Clinton said Sen. Clinton learned she was being considered for the Cabinet post by reading it in the newspaper.

Watch how a deal was struck »
"I think she made the right decision, but for her it was hard. She adored being in the Senate," he said.
He said he would remain in the background unless Obama "asks me to do something specific, which I'm neither looking for nor closed to."
Bill Clinton was in Hong Kong to open a meeting of the Clinton Global Initiative, the nonprofit foundation he started after leaving office. The organization, which is aimed at tackling international problems such as poverty and disease, came under scrutiny while his wife was being vetted for the job.
Clinton said he has agreed to disclose his donors in order to eliminate concerns that supporters were trying to influence U.S. international policy, a move he called "over and above what the law requires."
"If she is going to be secretary of state and I operate globally and I have people who contribute to these efforts globally, I think that it's important to make it totally transparent," he said.
E-mail to a friend

All About Bill Clinton • Hillary Clinton • Barack Obama • International Relations