By Campbell Brown
CNN
Editor's note: Campbell Brown anchors CNN's "Campbell Brown: No Bias, No Bull" at 8 p.m. ET Mondays through Fridays. She delivered this commentary during the "Cutting through the Bull" segment of Wednesday night's broadcast.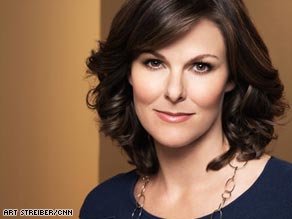 CNN's Campbell Brown says it is hard to see a strategy behind the tactics of Treasury Secretary Hank Paulson.
(CNN) -- It goes without saying that there is a lot of confusion about just how the $700 billion in federal bailout money is being spent.
If there is a strategy to it, if Treasury Secretary Hank Paulson really does have a plan, it has certainly been lost on me and, I think, most Americans.
And there are plenty of examples of these funds being directed in ways that don't entirely make sense.
I got an e-mail from someone down in Louisiana today who was pretty fired up about a story he read in his local paper about a local bank.
IBERIABANK is apparently requesting $90 million in federal bailout money, and getting it -- $90 million.
'No bias, no bull'
Get the latest on the day's main events on "Campbell Brown: No Bias, No Bull"
8 p.m. ET Monday through Friday on CNN

But here's what might surprise you: IBERIABANK is not in trouble.
Bank officials say they are having no financial stress. In fact, just the opposite.

Watch Campbell Brown's commentary »
The bank managed to avoid the whole mortgage mess, and, today, is in great financial shape.
So what they are doing is using the 90 million in bailout money to grow their business. They are buying up other smaller banks.
Don't Miss
Now, bank officials argue that this is good for taxpayers. That when healthy banks have capital to buy troubled banks, then those troubled banks can stay in business, and that's good for everyone.
But is it?
Was that the real intent of this bailout plan -- to give taxpayer money to businesses that are already doing well?
And, if that is the plan, are taxpayers ever going to see a return on that investment?
The government hasn't really given us the answer to any of these questions.
The opinions expressed in this commentary are solely those of Campbell Brown.
E-mail to a friend

All About Hank Paulson • U.S. National Economy