WASHINGTON (CNN) -- President-elect Barack Obama announced New Mexico Gov. Bill Richardson as his pick for secretary of commerce on Wednesday, calling him a "leading economic diplomat for America."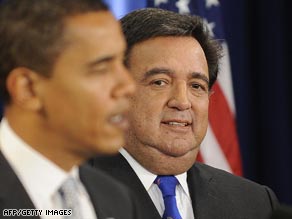 Barack Obama has picked Bill Richardson to be the secretary of commerce.
"I know that Bill will be an unyielding advocate for American business and American jobs, at home and around the world. And I look forward to working with him in the years ahead," Obama said at a news conference in Chicago, Illinois.
Richardson, one of the best-known Hispanics in the Democratic Party, served as the energy secretary in the Clinton administration as well as being the ambassador to the United Nations.
With the announcement, Richardson becomes the third former presidential rival to join Obama's team. Vice President-elect Joe Biden and Sen. Hillary Clinton, Obama's pick for secretary of state, also competed for the Democratic presidential nomination.
Richardson on Wednesday called it a "great honor" to be chosen for the post.
"There are some who speak of a team of rivals, but I've never seen it that way. Past competitors? Yes. But rivals implies something harder-edged and less forgiving. And in the worlds of diplomacy and commerce, you open markets and minds not with rivalry, but instead with partnership and innovation and hard work," Richardson said.

Watch Richardson describe how Commerce can push economic recovery »
There's been speculation for weeks that Richardson would be tapped as the commerce secretary.
Obama spoke with Richardson about the position on November 14, a senior Democratic source said. The source said Richardson has always been on Obama's list of possibilities for the key Cabinet position.
Richardson, 61, also traveled to Chicago, Illinois, in November to meet with Obama, according to a source.
Richardson also a contender for the secretary of state post, but he lost that to Clinton.
Obama brushed off speculation that Richardson's post is a consolation prize for Latinos and Hispanic politicians, when asked about recent articles that have made that allegation.
"Commerce secretary is a pretty good job," Obama said. "It's a member of my key economic team that is going to be dealing with the most significant issue that America faces right now, and that is, how do we put people back to work?" iReport.com: Your thoughts on Obama's cabinet picks
Obama said Richardson would be a "key strategist" in his administration.
"I think the notion that somehow the commerce secretary is not going to be central to everything we do is fundamentally mistaken," Obama said.

Watch Obama tell why he's confident economy can be fixed »
CNN's Candy Crowley said Obama went out of his way to show that this announcement is not a consolation prize by giving Richardson a solo news conference. No other staff appointments were announced at the Wednesday event.
"[Richardson] brings to this plate, in particular in an era where the economy is the focus of attention, a lot of skills that could be put to use -- perhaps opening up marketplaces for U.S. products abroad," Crowley said.
"In New Mexico, he sought to bring in new businesses and to create jobs ... so the Obama team considers this part of the economic team."
Assuming Richardson steps down as chief executive of New Mexico, Democratic Lt. Gov. Diane Denish takes over. She was Richardson's running mate in the 2002 and 2006 gubernatorial elections.
It's a very different situation in neighboring Arizona, where another Democratic governor, Janet Napolitano, is also stepping down to join Obama's Cabinet. Arizona doesn't have a lieutenant governor. Under state law, Secretary of State Jan Brewer -- a Republican -- takes over.
Richardson withdrew from the race for the Democratic presidential nomination January 10, after a poor showing in the New Hampshire primary, and later endorsed Obama. Obama and Clinton both lobbied Richardson for his endorsement.
If confirmed as secretary of commerce, Richardson will be charged with bringing much-needed jobs and businesses to the United States.
Obama has promised that his administration will "hit the ground running" when it comes to fixing the ailing economy.
Key members of Obama's economic team include New York Federal Reserve President Tim Geithner as treasury secretary, former Treasury Secretary Larry Summers as chief of the National Economic Council, and Peter Orszag as his nominee for director of the Office of Management and Budget.
Those named to Obama's economic team have started working on crafting an economic recovery plan. Obama has said job creation will be a key part of any economic recovery package.
The president-elect has directed his economic team to develop a two-year initiative that will save or create 2.5 million jobs by putting people to work rebuilding roads, upgrading schools and developing clean energy.
E-mail to a friend

CNN's Candy Crowley, Ed Hornick, Kristi Keck and Paul Steinhauser contributed to this report.
All About Bill Richardson • Barack Obama • Hillary Clinton