By Jamie McIntyre
CNN Senior Pentagon Correspondent

The nomination of retired Army Chief Gen. Eric Shinseki to be secretary of veterans affairs is widely seen as an appointment with a message, since Shinseki ran afoul of former Defense Secretary Donald Rumsfeld. But CNN Senior Pentagon Correspondent Jamie McIntyre has the inside story of how Shinseki's reputation as a "truth-teller" has been burnished beyond what the facts support.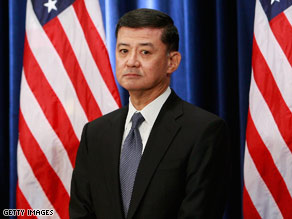 Retired Gen. Eric Shinseki on Sunday promised to work for veterans "each and every day."
WASHINGTON (CNN) -- In fairness to Gen. Eric Shinseki, he's never said "I told you so."
But many others have elevated his now-famous February 2003 testimony to the level of Scripture.
Shinseki was right, they say, when he told the Senate Armed Services Committee a month before the invasion that something on the order "several hundred thousand troops" would be necessary to keep order in a post-invasion Iraq.
At the time, that observation drew loud scoffs from then-Defense Secretary Donald Rumsfeld and from his deputy, Paul Wolfowitz, who dismissed the prediction as "wildly off the mark."
Still, Shinseki wasn't advocating 300,000 troops be dispatched into Iraq. In fact, he said specifically that the forces mobilized in the region to that point were probably enough, and he made it clear he would have defer to the combatant commander, Gen. Tommy Franks.
"I would have to rely on combatant commanders' exact requirements," he said.
But pressed by Sen. Carl Levin, D-Michigan, to make an off-the-cuff guesstimate, Shinseki said "it would take a significant ground force."
An appealing narrative
Since that day, critics of the war have lauded Shinseki's prescience and his willingness to speak truth to power.

Watch: Obama nominates Shinseki to top Veterans Affairs post »
Don't Miss
"Here was a career officer who had valuable insights who was shunted aside by arrogant civilians," University of Michigan history professor Juan Cole is quoted as saying in Sunday's Washington Post.
"When he had his disagreements with the administration, he wasn't afraid to speak up," Vietnam Veterans of America's John Rowan told CNN on hearing of the nomination.
It's an appealing narrative, but the facts as we know them are not nearly so complimentary to the retired Army chief.
You see, Shinseki never made any recommendation for more troops for Iraq. In fact, as Army chief of staff, it wasn't really part of his job to take part in direct war planning.
But as a member of the Joint Chiefs of Staff, he did owe the president his best military advice. And if he felt strongly enough that the advice was not being taken, he could have resigned.
According to senior military officers who were in the pre-war meetings, Shinseki never objected to the war plans, and he didn't press for any changes.
When the joint chiefs were asked point-blank by then-Chairman Gen. Richard Meyers if they had any concerns about the plans before they went to the president, Shinseki kept silent.
He kept his counsel
But Shinseki was a very private leader who did media briefings only when ordered to and rarely gave interviews. If he had concerns about the Iraq war plans, he kept them to himself.
He admitted as much in a rare e-mail exchange with Newsweek magazine in 2006.
Asked to respond to the criticism that he failed to push to stop Rumsfeld from going into Iraq with too few troops, he told the magazine, "Probably that's fair. Not my style."
Knowing his opinions were not particularly welcome, Shinseki kept his mouth shut. In that sense, he was "marginalized," as some say.
And it's true that in retrospect, many U.S. commanders believe there should have been more troops sent to Iraq, even though it's far from clear that would have prevented the insurgency and sectarian violence that the Pentagon failed to anticipate.
But the idea that Shinseki was a strong advocate for a bigger force and that no one listened vastly overstates his role.
It's one of those Washington myths that are almost impossible to dispel -- like the popular misconception that Shinseki was fired for standing up to Rumsfeld.
That myth is so pervasive, the authoritative Associated Press repeated it again Saturday night, saying "Shinseki was removed from [his] post after challenging the Bush administration."
He did not stand up to Rumsfeld, nor was he fired.
There's no question that Shinseki was on the outs with his civilian bosses, especially Rumsfeld.
Shinseki ordered that all soldiers wear black berets, a move that infuriated the special forces community, for whom the berets were a badge signifying their elite status. Rumsfeld, according to aides, was particularly miffed that Shinseki spent so much effort changing the Army's head gear, when the nation was at war.
He retired after serving a full four years as chief at a ceremony in 2003 that neither Rumsfeld nor Wolfowitz attended.
A man of principle
In announcing Shinseki's selection as secretary of veterans affairs, President-elect Barack Obama called him someone who "always stood on principle."
"No one will ever doubt that this former Army chief of staff has the courage to stand up for our troops and our veterans," he said.
In applauding the selection, Brandon Friedman, vice chairman of VoteVets.org, said, "If there are two things everyone knows about Gen. Shinseki, they are that he always thinks ahead to what needs may be down the road, and is not afraid to strongly speak his mind to the president of the United States."
Now that Shinseki is working for someone who believes in him, that could well turn out to be true -- no matter how much he kept his counsel to himself in the past.
E-mail to a friend

All About U.S. Department of Veterans Affairs • Donald H. Rumsfeld • U.S. Armed Forces Activities • Iraq