From Paul Steinhauser
CNN Deputy Political Director

(CNN) -- The man with the sole authority to appoint a replacement for Barack Obama in the U.S. Senate was arrested Tuesday, shaking up the process to fill the president-elect's former seat representing Illinois.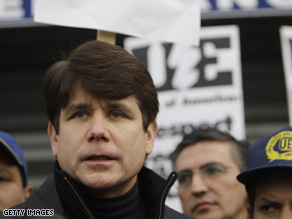 Illinois Gov. Rod Blagojevich, a Democrat, was arrested Tuesday on corruption charges.
FBI agents took Illinois Gov. Rod Blagojevich into custody on federal corruption charges in part related to the selection of Obama's replacement in the Senate.
So will Blagojevich retain the right to name Obama's successor, even if he remains in custody or under indictment? The answer is yes, according to U.S. Attorney Patrick Fitzgerald.
Blagojevich, like Obama, is a Democrat. The governor has maintained since last month that his decision will not be made in haste and that he wants "to ensure that Obama's successor will understand and fight for the needs of average Illinoisans."
But the clock is ticking on naming a successor. The governor has until January 6 to appoint the new senator.
Jay Stewart, executive director of Chicago's Better Government Association, agrees that Blagojevich retains the right to fill the Senate vacancy until he's out of office, which wouldn't happen unless he quits or is removed by impeachment.

Watch as Fitzgerald discusses the charges against Blagojevich »
At a press conference Tuesday, U.S. Sen. Dick Durbin, D-Illinois, said he wants the state Legislature to act quickly to pass a law setting up a special election to fill Obama's seat.
"No appointment by this governor under these circumstances could produce a credible replacement," Durbin said.
Durbin also disputed the notion that Illinois is made up of corrupt politicians.
"I want to say for the record that I believe that the overwhelming majority of politicians in Illinois and outside are honest, hardworking people in both political parties," he said. "There will always be exceptions in both political parties who, when given the opportunity to use power, misuse it."
If Blagojevich does resign, Lt. Gov. Pat Quinn, a fellow Democrat, would take over as governor.
The government alleges that Blagojevich and his chief of staff, John Harris, were "conspiring to obtain personal financial benefits" for the Illinois governor by leveraging the former's power to appoint a senator to replace Obama. Blagojevich has denied any wrongdoing.
At a press conference Tuesday, Fitzgerald said, "The most cynical behavior, the most appalling, is the fact Gov. Blagojevich tried to sell the appointment of the Senate seat vacated by President-elect Obama. The conduct would make [Abraham] Lincoln roll over in his grave."
There is no clear successor to Obama in the wings, and more than half a dozen people have been mentioned or have expressed interest in the Senate seat.
According to political observers, candidates likely being considered include U.S. Rep. Danny Davis; Tammy Duckworth, director of the Illinois Department of Veterans' Affairs; U.S. Rep. Luis Gutierrez; U.S. Rep. Jesse Jackson Jr.; Illinois Senate President Emil Jones Jr.; Illinois Attorney General Lisa Madigan; U.S. Rep. Jan Schakowsky; and Illinois Secretary of State Jesse White.
E-mail to a friend

CNN's Ed Hornick contributed to this report.
All About Rod Blagojevich • Illinois • Barack Obama