(CNN) -- Illinois Attorney General Lisa Madigan on Friday asked her state's highest court to remove Gov. Rod Blagojevich from office temporarily.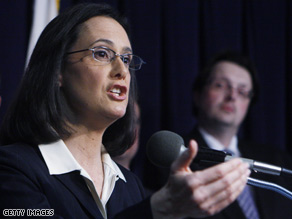 Illinois Attorney General Lisa Madigan says Gov. Rod Blagojevich needs to step down.
Moments after Madigan's announcement, news broke that Blagojevich's chief of staff, John Harris, had resigned, a spokesman for the governor said.
Blagojevich, 52, and Harris, 46, were arrested this week on federal corruption charges relating in part to the selection of a successor to President-elect Barack Obama's vacant Senate seat.
The governor's attorney has said Blagojevich did nothing wrong.
Madigan's office also asked the Illinois Supreme Court to strip Blagojevich of duties, including appointing Obama's Senate replacement.
"I recognize that this is an extraordinary request, but these are extraordinary circumstances," Madigan said Friday in Chicago.
Madigan said she wants Blagojevich out of office because, given the charges against him, she does not think he can do his job. The court filing asks that Lt. Gov. Pat Quinn become acting governor.
"As governor, Mr. Blagojevich's duty is to do what is best for the people of the state of Illinois, not for himself," Madigan said.

Watch Madigan say why she thinks Blagojevich should step down »
When asked by CNN whether he had anything to say to Illinoisans, Blagojevich said Friday that he will wait to speak at the "appropriate time."
As he left his attorney's office, the governor did not answer a question on whether he is going to resign, saying only, "I'll have a lot to say at the appropriate time."
The Illinois Legislature is scheduled to convene in a special session Monday to discuss a special election for the Senate seat. Madigan said she encourages lawmakers to move forward with impeachment proceedings.
"In the interim, state government is paralyzed by a governor who is incapable of governing," she said.
It was not immediately clear if and when the state Supreme Court would take up the matter.
In the filings, Madigan has asked the court for a temporary restraining order or an injunction on Blagojevich acting as governor, arguing that he is unable to serve due to disability and should not hold the office.
"Just as impeachment or resignation constitutes a disability that renders an individual unable to serve as governor, pending federal criminal charges of this nature and severity are a disability that has rendered Mr. Blagojevich unable to serve," Madigan wrote.
At Friday's news conference, Madigan said, "The term 'disability,' legally, is very broad," adding that it's "not simply isolated to a physical or a mental disability."
If the governor were to resign, the filings would become moot, Madigan said.
She said it is important the Legislature decide to proceed with impeachment proceedings.
"My actions will not eliminate the need for impeachment and trial," she said.
Key Illinois Democratic legislators began circulating a letter Thursday urging support for the governor's impeachment.
The letter, which was sent out by Rep. John Fritchey, head of the House Civil Judiciary Committee, said the impeachment filing was being prepared. Lawmakers said they expected that the process -- the state House would bring charges against Blagojevich, and the state Senate would try him -- would take "a matter of weeks rather, than months."
Obama also has called for Blagojevich to step down.
In related news Friday, a source said Rahm Emanuel, Barack Obama's chief of staff, has been notified that he is not a target of the investigation.
And U.S. Rep. Jesse Jackson Jr., who was identified as "Senate Candidate 5" in the criminal complaint, said he is trying to get "my name back."
"I'm fighting now for my character, and I'm also fighting for my life," he said. "This is about my children being able to Google their name in five years and there be nothing there associated with them that suggests anything wrong."
In the criminal complaint, which mentions six Senate candidates, Candidate 5 is the only one whom Blagojevich said engaged in discussion through an emissary about possibly raising money for the governor in exchange for the Senate position.
However, a law enforcement official close to the investigation said there was no evidence -- other than the governor's taped remarks -- that Jackson or others on his behalf ever approached the governor in an improper way.
The embattled governor, who has not responded to calls for his resignation, met Friday morning with several pastors at his house on Chicago's North Side.
"We offered prayer with the family in the home," said the Rev. Marshall Hatch of Chicago's New Mount Pilgrim Missionary Baptist Church.
He said he and two other pastors arrived at the governor's house about 7:30 a.m.
"We talked yesterday," he said, and "we offered to come by and pray with the family. They just asked for prayer, for he and the children, especially."
Blagojevich and his wife, Patti, have two daughters, Amy, 10, and Annie, 4.
Hatch said the governor gave no indication of his next move. "I think we were careful not to entertain that subject with him," Hatch said.
"We wanted to keep it pastoral, and we really just talked about some of the aspirational themes and history and how important it is to keep your faith in God in the toughest of times."
The governor was upbeat, Hatch said, adding that Blagojevich is "being strong, of course, for his family."
Blagojevich has not commented publicly on the charges, but his lawyer Sheldon Sorosky said this week that his client "feels he didn't do anything wrong."
"He hopes the people of Illinois have faith in him because he will be vindicated," Sorosky said.
E-mail to a friend

CNN's Drew Griffin and Don Lemon contributed to this report.
All About Rod Blagojevich • Illinois