CHICAGO, Illinois (CNN) -- U.S. Rep. Jesse Jackson Jr. said Friday that he was fighting to get "my name back" after he was identified as "Senate Candidate 5" in a criminal complaint against Illinois Gov. Rod Blagojevich.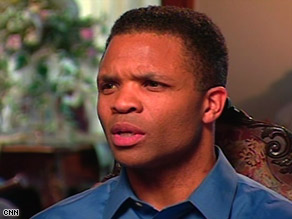 Rep. Jesse Jackson Jr. says neither he nor any emissaries offered favors in exchange for a Senate appointment.
Jackson, the son of famed civil rights leader Jesse Jackson and a six-term Democratic congressman from Chicago, had publicly sought to succeed President-elect Barack Obama in the U.S. Senate.
Jackson had talked to Blagojevich, the person with the sole power to make the appointment, on Monday, just one day before federal agents arrested the Illinois governor. Jackson said he only presented his credentials and polling information that suggests he could win re-election in 2010.
Jackson said he had fought corruption "since day one" but said he could not serve as Illinois senator until his name was cleared in the public eye.
"While I would be honored to serve the people of this state, it is clear to me that I am in no capacity to serve them if there is a cloud over my head that seems to suggest that I am involved in some unscrupulous scheme to be a United States senator or anything else," Jackson told CNN's Don Lemon.
Prosecutors accuse Blagojevich of selling the Senate seat in exchange for campaign contributions and other favors. However, they did not accuse Jackson or any of the other candidates referred to in the complaint of wrongdoing.
Jackson denied participating in the "pay to play" politics that Blagojevich is accused of in a federal criminal complaint. Jackson also said he was eager to talk to U.S. Attorney Patrick Fitzgerald about his role.
"When it's over, I want everyone to know that I want my name back. ... I'm fighting now for my character, and I'm also fighting for my life," he said. "This is about my children being able to Google their name in five years and there be nothing there associated with them that suggests anything wrong."

Watch Jackson say he wants his name back »
Jackson said he does not understand why Blagojevich believed he would trade favors in exchange for an appointment to the Senate, saying he had "nothing to offer but my record of public service."
He also said he did not send an emissary -- including his father or his brother, Jonathan -- to Blagojevich offering favors.
"When the facts become clear ... I think the American people will recognize that the governor of our state is a little different," he said.

Watch Jackson question the governor's mental capacity »
Jackson said it is wrong for politicians to believe they can gain personally as a result of holding public office.
"I think that there is a disconnect between public service and private sacrifice. ... If for one moment you think that public service is also private gain, then you are trampling on very, very unsteady ground that is likely to force you and good people with good names in a very different process," he said.
E-mail to a friend

CNN's Scott J. Anderson contributed to this report.
All About Jesse Jackson Jr. • Rod Blagojevich • Illinois