By Campbell Brown
CNN

Editor's note: Campbell Brown anchors CNN's "Campbell Brown: No Bias, No Bull" at 8 p.m. ET Mondays through Fridays. She delivered this commentary during the "Cutting through the Bull" segment of Tuesday night's broadcast.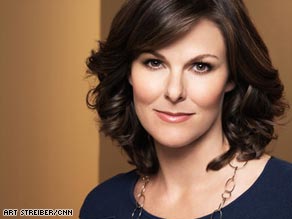 CNN's Campbell Brown says the Utah parents are fighting the ruling and she hopes they prevail.
(CNN) -- As a mother, I can hardly bear to imagine what the Larson family is going through.
The Utah couple this past weekend said goodbye to the little boy they legally adopted six months ago.
The boy's name is Talon and when they took him in, they say he had drugs in his system, and that his birth mother had been declared unfit. They took care of the child, and have loved and cared for him for the last six months.
But this couple has now lost their son because the birth mother is part Native American.

Watch Campbell Brown's commentary »
She's a member of the Leech Lake band of the Ojibwa tribe. Her tribe went to court and argued that the mother had changed her mind and the tribe won the right to take custody of this child.
'No bias, no bull'
Get the latest on the day's main events on "Campbell Brown: No Bias, No Bull"
8 ET Monday through Friday on CNN

A federal law called the Indian Child Welfare Act gives the tribe a legitimate claim.
This was a law that was designed to keep Native American children with Native American families. It was passed in 1978 amid concerns by Native Americans that their numbers were dwindling and that they were losing their culture.
The law allows them to broadly declare who is Native American. For example, the birth mother is apparently only one-quarter Native American. The little boy apparently is less than that.
The Larsons say he doesn't even meet the blood requirements to become a member of the tribe.
Don't Miss
But the outrage here is this: The little boy isn't going back to his birth mother.
He is expected to go into foster care, perhaps with other siblings already in foster care, again because the birth mother has been declared unfit.
So, a little boy is being taken away from loving parents who have cared for him for the last six months and put into tribal foster care because that is what the law says is the right thing to do.
To me, that is a ridiculous law.
If there is concern in the Native American community that children are being lost to the tribe through adoption because of unfit parents, then focus on strengthening your families so that your children won't be parentless.
It seems to me that entirely lost here is what is in the best interest of this child. The Larson family is going back to court to try to get their little boy back. I wish them the best of luck.
The opinions expressed in this commentary are solely those of Campbell Brown.
E-mail to a friend

All About Adoption • Native American Issues