WASHINGTON (CNN) -- The government commission tasked with protecting investors has launched an internal probe into why, despite credible allegations for at least 10 years, there were "multiple failures" in investigating what may have been the largest Ponzi scheme in history.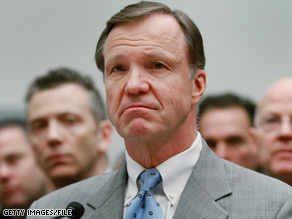 SEC Chairman Christopher Cox said he was "gravely concerned" about the failure to investigate the fraud case.
The federal Securities and Exchange Commission said Tuesday that allegations against Bernard Madoff and his securities firm had "repeatedly" been brought to the attention of SEC staff as early as 1999 but were not recommended to the commission for action.
"I am gravely concerned by the apparent multiple failures over at least a decade to thoroughly investigate these allegations or at any point to seek formal authority to pursue them," said commission Chairman Christopher Cox in a written statement.
Federal prosecutors have charged Madoff with securities fraud that could result in huge losses to financial firms worldwide, charities and individual investors.

Watch how charities could be affected »
The alleged $50 billion Ponzi scheme operated by Madoff from his investment advisory business may have cost some of the largest financial firms in the world hundreds of millions of dollars apiece.
A federal judge on Monday issued an order that may help investors swindled by the scheme to recover some of their money.

Watch why exposure from the scandal was so great »
The order, by U.S. District Court Judge for the Southern District of New York Louis Standon, said customers of Bernard Madoff Investment Securities are "in need of protection" under federal securities law.
Don't Miss
Cox said he had directed a "full and immediate" review into the past allegations made against Madoff and his firm and into why staff members did not act on them.
The investigation also should include any contacts SEC staffers may have had with the Madoff family and firm and what effect, if any, those relationships may have had on staff decisions.
Cox said that, since the commission initiated emergency action against Madoff and his firm on Thursday, "every necessary resource at the SEC has been dedicated to pursuing the investigation, protecting customer assets and holding both Mr. Madoff and others who may have been involved accountable."

Watch Anderson Cooper and panel discuss case »
"Although the information I can share regarding an ongoing investigation is limited, progress to date indicates that Mr. Madoff kept several sets of books and false documents, and provided false information involving his advisory activities to investors and to regulators," he said.
Madoff made an initial court appearance last week and was freed on $10 million bond.
E-mail to a friend

All About U.S. Securities and Exchange Commission • Corporate Fraud