From Elise Labott and Charley Keyes
CNN

WASHINGTON (CNN) -- Secretary of State Condoleezza Rice said the liberation of Afghanistan and Iraq's first elections are among her proudest accomplishments during her tenure.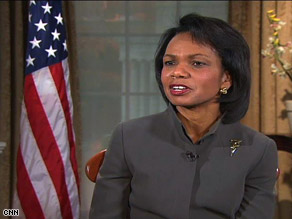 Condoleezza Rice said that in hindsight she would have focused more on working with local governments in Iraq.
Rice, who sat down with CNN's Zain Verjee in a wide-ranging exit interview, also said her historic trip to Libya in September to meet with leader Moammar Gadhafi was one of the high points of her service.
'"The thing I never expected was to actually be in Libya face-to-face with Colonel Gadhafi," Rice said. "That probably stands out as one of the extraordinary moments."
Rice, 54, said one of her most difficult moments occurred during the summer of 2006 as the Lebanon war was raging.
At an international conference in Italy, Rice was forced to reject Prime Minster Fouad Siniora's pleas for a cease-fire so that Israel could damage the militant group Hezbollah's capability.
"Standing next to Fouad Siniora in Rome as, really, the country was being bombed to smithereens ... and having to say we can't call for an immediate cease-fire, that we can't deliver and that will ultimately lead back to the status quo ante with Hezbollah able to do this again was very difficult because I have so much respect for him," Rice said. AC360: Read the entire transcript of the interview
Rice acknowledged some of the assumptions the United States carried into the war in Iraq turned out to be "erroneous," and said, in hindsight, that she would have put less emphasis on rebuilding Baghdad and more on working with local provincial governments to "try to bring this from the bottom up rather than from the capital out."
Rice was critical of the news media's focus on last week's incident in Baghdad, where an Iraqi journalist threw his shoes at President Bush during a news conference, but predicted the long view of history would put the event in proper perspective.
Don't Miss
"Those who are supposed to be reporting for history didn't focus on the historical moment, which is that this was the president of the United States in Baghdad, for goodness' sakes, with a freely elected prime minister in a show of friendship," Rice said.
"Do I really think that 30 years from now or 20 years from now or 10 years from now, that will be -- a shoe being thrown at the president -- is somehow going to be what was important about Iraq? Of course not."
Rice rejected reports that, as national security adviser, she erred before the September 11, 2001, attacks in failing to take seriously warnings from U.S. officials about al Qaeda leader Osama bin Laden.
"This is simply not true," Rice said. "There was a single item that said 'bin Ladin determined to attack' -- not when, where, how, under what circumstances; largely historical data about al Qaeda had always wanted to attack at home.
"And, by the way, threats that were multiplying in July, principally about the foreign threats in foreign places. But I am the one who said, 'Well, what if something happens at home?' "
Rice said she then convoked the domestic agencies to discuss the threat but was confronted by a system that was unable to respond nimbly.
"We did not have the capacity in our systems to share information between law enforcement, the intelligence agencies, and to be able to act in a very quick and decisive way," she said, adding that changes have since corrected that.
Although she said she took personal responsibility for the attacks, Rice also called them "a systemic failure."
"We, the administrations before us, had not thought of this as the kind of war against the terrorists that we were going to have to wage," she said.
She rejected criticism that, as national security adviser, she was steamrolled by Vice President Dick Cheney and former Defense Secretary Donald Rumsfeld and prevented from presenting a broad view to Bush.
She bristled at a complaint by Secretary of State Colin Powell, who said the National Security Council under Rice had not functioned well and that many issues were not presented to the president.
"Any principal who ever wished to say something to the president, I facilitated it within hours -- not within days, within hours," she said. "And the president sat with his national security team, and everybody had an opportunity to speak their mind.
"And so, if people didn't tell the president something, it wasn't because they didn't have the opportunity to do so."
Rice said her close relationship with Bush never prevented her from challenging him on any number of issues. She described their relationship as "straight and honest."
As secretary of state, Rice moved Bush away from hard-liners such as Cheney and Rumsfeld and toward a different view of foreign policy that included engaging Iran and North Korea.
Although she acknowledged "differences" within the administration, including with Cheney, Rice said, "ultimately, the president decided."
"The vice president and I have always had a very good relationship. And when the vice president has views, he's made them known, he's made them known to me, and the president has decided."
President-elect Barack Obama has pledged to fill his Cabinet with a "team of rivals," a plan that Rice said would work only if Obama proves able to sort through conflicting advice and make the final call.
"There's no problem with rival ideas, and we've sure had our share of them, and there should be no problem in the president hearing rival ideas," she said.
"But ultimately, it's the president's to decide. And once the president has decided, everybody has to be on the same page and carry that out."
Asked whether the public has any misconceptions about her, Rice initially said she didn't care. Prodded, she cited reports that she is rigid and overdisciplined, saying, "I'm not a type-A personality."
"I have never been somebody who was so disciplined as to not have fun in life," Rice said, adding she enjoys playing the piano, watching football, exercising and spending time with friends and family.
"There are often many things I'd rather be doing than working," she said. "That makes a well-rounded person, and I think I'm a well-rounded person."
Rice said that, after leaving office, she wants to work on issues related to education and children and to write two books -- one on her role in the Bush administration and the other on her parents, whom she called "educational evangelists" and "extraordinary people."
"These are people who, I think, in their entire life probably never made more than $60,000 between them, because mother was a schoolteacher, daddy a high-school guidance counselor and then a university administrator," she said. "But they knew the value of investing in your child."
Although she said she considered it an honor to have represented America, she added that she would miss neither Washington nor the scrutiny she draws once she leaves office and returns home to California.
Rice would not divulge for whom she voted in November's presidential election, but said it is "a great thing for the country that President-elect Obama is demonstrating that America is what it says it is."
E-mail to a friend

All About Condoleezza Rice • Iraq • Afghanistan • Barack Obama • George W. Bush