From Deirdre Walsh
CNN Capitol Hill Producer

WASHINGTON (CNN) -- Senior Democratic congressional staffers met Friday with senior aides from President-elect Barack Obama's transition team to discuss the broad outlines of an economic stimulus package, a senior House Democratic source told CNN.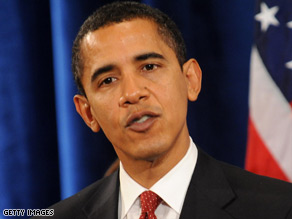 President-elect Barack Obama's aides are fleshing out the details of a economic stimulus package.
The congressional staffers came from House and Senate leadership offices and key committees, the source said.
Friday's meeting was larger than the frequent discussions congressional aides and the Obama team have had in recent weeks, the source said.
"We presented them with our ideas and they talked to us about their ideas," the source said, adding that discussions will continue next week with some documentation exchanged between Capitol Hill and the transition office.
No decisions have been made about a price tag for the stimulus, said the source, who also said the $850 billion to $1 trillion numbers that have been floated aren't likely to happen.
"It's not going to be that," the source said. "I just don't see it going up to $850 billion."
The aide pointed to the range cited by House Speaker Nancy Pelosi, D-California, earlier in the week -- $500 billion to $600 billion, with a majority of the money going to infrastructure projects and the rest for a middle-class tax cut.
E-mail to a friend

All About National Economy • Barack Obama