From Paul Steinhauser
CNN Deputy Political Director

WASHINGTON (CNN) -- A new national poll Monday finds a majority of Americans approve of recent loans to big U.S. automakers, but less than 3 in 10 would support additional assistance.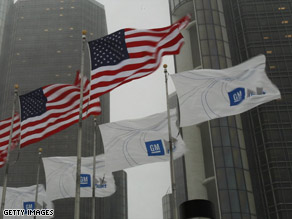 Flags fly outside of the General Motors Corporation in Detroit, Michigan.
Sixty-three percent of those questioned in a CNN/Opinion Research Corp. survey support the White House loaning more than $13 billion to American automakers Chrysler and General Motors, while 37 percent opposed the move.
In exchange for the loans, the deal calls for the auto companies to show by the end of March plans for viable new business models.
The poll numbers out Monday are drastically different from a similar poll from early December.
Sixty-one percent of those questioned in a CNN/Opinion Research Corp. survey out December 3 were against the federal government providing billions of dollars to the automakers, with 36 percent favoring such a bailout.

Watch why six in 10 support the bailout »
Monday's poll shows 53 percent of Americans don't think government assistance for the automakers will help the U.S. economy.
Don't Miss
But just 28 percent said they would approve providing the automakers with more money, while 70 percent said they would prefer to let them go bankrupt.

Watch: Auto bailout explained »
"The opposition to any additional assistance may be a reluctance to spend more money that they think the government may never see again," Holland added. "Only 28 percent say the auto companies involved in the current program will be able to pay all or most of the $13 billion back; one in five say they will not be able to pay any of it back to the government.
"This perceived lack of ability to pay taxpayers back may be one reason why the poll indicates auto executives are not very popular with Americans. Eighty-two percent of those questioned have a negative view of auto executives."
Union leaders don't fare well either: Sixty-one percent of those polled have a negative view of them.
Two-thirds of those polled said they would be less likely to buy a car from an auto company in bankruptcy.
The CNN/Opinion Research poll was conducted Friday through Sunday, with 1,013 adult Americans questioned by telephone. The survey's sampling error is plus or minus 3 percentage points.
E-mail to a friend

CNN's Ed Hornick contributed to this report.
All About General Motors Corporation • Chrysler LLC