LONDON, England (CNN) -- Shah Rukh Khan is the biggest draw in Bollywood and the world's most popular film actor. He shot to stardom in his first feature film "Deewana" (1992) which won him the first of 13 Filmfare awards -- the Bollywood equivalent of an Oscar. Here he talks to CNN about his childhood, family, religion and fame.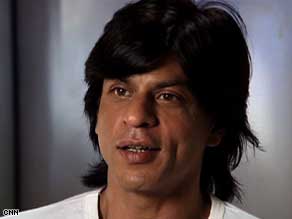 Shah Rukh Khan -- The undisputed King of Bollywood.
CNN: When you were growing up in Delhi did you always aspire to be the star you are today?
SRK: No I never thought of being a movie star. I dabbled in theatre, but I did a lot of things when I was young. Sports, I was into anything. I liked to keep myself busy. Theatre or drama was a part of that. I did a bit semi-professionally in Delhi, and then TV came to India in a big way. Suddenly every actor was called upon to act on TV. So with that I joined TV and became popular. I came down to Mumbai to shoot a TV series but I wasn't that keen on Indian movies. I didn't think I was cut out for it, I didn't think I was good enough. I still don't. So I came for a year to give it a shot. My parents died early so I was sad in Delhi. I said to myself: Ok, come here for a change of scene. Maybe I'll enjoy myself for a year and get over my depression of my parents death. But I just I couldn't go back. I came for a year and I couldn't go back. I was never trying to be a movie star, I became one by chance.
CNN: How did you make the leap from TV to the movies?
SRK: I was in Mumbai shooting a series, and then some people wanted me to do movies. At the time I wasn't very keen, but there were some friends in TV that convinced me. You should do it, they said. I was more intellectually inclined to do serious cinema. I use to think I was this great actor that could get into characters and I'd read all the books on acting and could get into method acting. I told myself, this is what I am going to do. I am going to do cinema that makes a difference. Initially I didn't think the way I think now. I was in Mumbai I had some people I enjoyed working with and I said I will work with these guys and I did. Halfway through I realized that if I wanted to make a difference through my work I should get into the position of choice to invite as many people as possible into the cinema first. Once they came I could maybe entertain them and throw in bits of what I think should be said. For the last five or six years that has become very possible for me. I am clear that I am here to entertain as an actor. The cinema I do is highly entertaining for an Indian audience. Making intelligent cinema lies in the beauty and power of acting. The simpler it is, the more difficult it is to convince people. I just did a film, 'Chak De India', which is about the empowerment of women in sport in India. My main aim is that I would never sacrifice entertainment in the name of a message I have. But I am a complete believer in fun and entertainment in cinema.
CNN: The people we have spoken to describe you as an all-rounder. Is that something you sought out to be -- someone who isn't afraid to take new roles?
SRK: When I started I had nothing to loose. I never wanted to be in Indian films, so I could do stuff a lot of conventional heroes brought up in the film industry would feel scared of or think twice before doing. I said: 'Ok, I'll do it. If it doesn't work I am going back to Delhi'. I am only here for a year. Things that I did strangely worked.
In my first commercial hit 'Baazigar' I played a bad guy who kills people, including Shilpa Shetty. So I have the distinction of launching her career and then killing her in the first half of the film.
I do try roles that are a little different. A lot of them fail but failure has never discouraged me because I feel that when you have been working for 18 years, a lot of people seem to like you, but two things happen. Firstly, you lose the ability to surprise people. I'm not a genius actor I only have so many expressions that I can play with. If I do something radically different then I can surprise people - which keep the novelty going on, like I did when I started. Secondly, when you have been working for 18 years you do form a place in the heart of the audience so they do forgive you a few slip ups. This may sound strange to a western audience, but in India there is a huge emotional connection with actors and actresses. It is not just that I am doing a job and people come on a Thursday or Friday and enjoy my film. People become emotionally attached to you. You become iconic. You become a sort of demi-god people look up to. As a matter of a fact, without wanting to be someone who is a role model, I find myself at times in controversial areas where people say that I'm a role model and that I shouldn't smoke on screen. I'm like; I used to I smoke in real life. I know it's not a good thing to do, but it is a movie. We don't write life, we write films looking at life. I have these things which I question many times because people get so attached to you as a performer. Mothers say to me, 'we would like our children to be like you'.
CNN: Being an icon comes with positives and negatives. How has it changed your life? What are the compromises in being so well known?
SRK: I am quite an unsocial, solo kind of guy. I've never been someone who is affected. I'm not being pompous that nothing affects me, but as an actor I am very individualistic. I really don't think about whether x, y, or z would like to do it or not. I like to think whether I'd like to do it or not. If I am convinced, the chances are that I'm likely to convince a lot of people. If I am not convinced, and I do it because so and so likes it, the chances are that I will not be able to convince a billion people. I've really had to make no sacrifices. I think I have been given a great life. I cannot complain. If I wanted to be private I wouldn't act in films.
To be honest I really don't want to walk down the street. I like traveling in a big car. All our life we try to be recognized and when we are, we wear these dark glasses not to be recognized and I think that is rather silly.
CNN: As a Muslim you seem to be a role model. You seem to bridge the difference between Hindus and Muslims?
SRK: Historically in the film industry, Hindus and Muslims have been acting and making films. It is amazingly secular. I would like to believe that the film industry is my India. As far as the people are concerned, when they are working together and laughing together or crying together, we are all together. There has never been any difference within people, but I always claim that there are agendas for a smaller set of people.
I don't think being a Muslim has ever been a criterion for me becoming a star or not being a star. It was never a prerequisite or an anti-thing. I would like to believe it would belittle my work in my own eyes if I thought I did well because I am a Muslim or it would be equally wrong that I did not make it because I am a Muslim.
I don't think I have to make a special comment as a Muslim in a Hindu country. The fact that I work here without a religion attached to me is a matter of a fact. In my film career I have never acted as a Muslim -- save the last one that I have done -- and nobody has questioned it either way. No Muslims have got disturbed and said you are an Islamic guy and you have never acted like a Muslim. Its ok. They go and see my films when I am playing a Hindu and praying in front of idols. They know it is acting. Everyone who is educated understands this.
On the other hand the majority of this country have not put their thumbs down at me and said we cant like him he is a Muslim guy. So there has never been an issue. If I think of it as an issue then I am creating one, I think. I've never really thought I am bridging the gap between the understanding of Muslim, but I do think I stand for a young-ish educated India. And when I say Indian it could be Muslim Christian Sikh or Hindu. Whatever I think, this is the face of the country which the world should see through actors/businessmen /entrepreneurs, and I am very proud that I am alive in this phase of India. I have also been given an opportunity to talk about my country and say that this is an educated country and yes, we have our problems, but every county does. We have ethnic, religious problems also but that's due to a set of smaller people. But the whole country is not like that.
CNN: Talking about being proud of India, you've just had your Independence Day (August 15th). Your father was a freedom activist. How does that make you feel?
SRK: Fantastic! My father fought for the independence of my country and I'm very proud. I don't know the problems faced by my father and some other people that must have faced many more problems than my father did who were not recognized as freedom fighters - whose sacrifice for the countries sake was far greater than my father. But I just feel when you leave legacies, ok legacy is a strong word, we leave things behind for our children. I perhaps leave a good reputation for my children and a good education. That's what I would like to leave and perhaps you would like to leave for your kids and say my father was a hard working guy, he gave me all this, this is good. Just on that simple level I feel a little special. The legacy that my father left behind is that he gave me freedom in the country that I live in.
CNN: Your wife is Hindu, you are Muslim. So your children are brought up with two religions. Do you think that this is the face of the new India?
SRK: I hope my children are the new face of India because it wouldn't make a difference whatever the religious combination of their parents. I think the whole idea of a modern India is that this thought does not cross their mind.
CNN: Are Hindu/Muslim marriages common today?
SRK: I think so. I think there is nothing special about a Hindu/Muslim wedding anymore. I think that a lot of people marry intra-religion and there is no issue at all.
CNN: Why do Indian audiences go crazy for the movies?
SRK: Like I said, the reason is very simple. This is the only mode of entertainment we have. Developing nations pass through phases I believe. I may be wrong economically but broadly put for a lay person like me, the first requirement is food and clothing and housing. Once that need is fulfilled then you turn to towards perhaps economic issues and think about the future and when that is done entertainment, even in the times when the first two aspects weren't fulfilled in my country, we found a thing to turn around to and go back to which made us escape from reality. I think I am amazingly proud that mine is an escapist cinema and the beauty of my escapist cinema is that mine is more real then your real cinema. You will never see cinemas running in empty halls here.
Indian cinema is so simple. What is my desire? I want to meet the girl of my dreams. I want to marry her. Dance with her in green lush fields. Have babies and settle down. If things are good I would like to have a Hyundai car. It is so real. My dream is not about saving the world from a meteor. My dreams are so simple. My reality and desires are so simple. I am so un-mechanized and raw in my things that I want. Even my highest dream is just to fall in love and have a good life, and I think that is so real. I think that is a beautiful way to make cinema and the people desire only that much.
The fantasies are more real than the fantasies of the west. I still don't have a superman to save my country. I have a regular guy who is studying in the college doesn't have fees to pay the college so goes and helps the poor.
CNN: What are your hopes for the future?
SRK: I have never worked for posterity or for the future. I just work for the next moment. For now, I do what I think I am good at. I've never really designed or managed what's going to happen. I truly believe film making is creative, and creation cannot be bound by restrictions. There will be a day when people are bored of me -- they've seen me with new hair new abs, new beard. When that happens I will move on to directing a film. I am already producing. I would love to keep acting. I enjoy the moving camera. People tell me I make love to the camera. I like it. Nothing turns me on more - than a vain stupid silly shot when the lights are on. I still get excited by the same things as when I was young. I'm really happy that this world -- cinema, Mumbai, India -- has not taken away anything from me, hasn't taken the child out of me. I am so happy that this profession has allowed me to be a kid for so many years. I want to thank the world for giving me this wonderful life. I want to thank all the audiences. If anyone asked me to do this kind of film role, I would do it. I just want to make people, the audience happy. I love working for them.

CNN: Your biography was recently published, can you tell us about that?
SRK: The book is called "King of Bollywood" and it has a bright pink cover. I wish Anu Chopra [author] the best. I hope my life makes good reading. I've been candid in the book. I have answered everything she asked me. She talked to people who have known me. She writes very well. It is very humbling. When I retire I will read all the books that have been written about me and see all my films. All these are investments for my old age.
E-mail to a friend