LONDON, England (CNN) -- Some movie actors are lauded for their performances on the silver screen, earning themselves respect and stardom. But few, if any, Western stars are worshipped in quite the way that Shah Rukh Khan is. In a film career spanning 16 years he has risen to become the most recognizable face of Indian cinema and the most watched movie star in the world.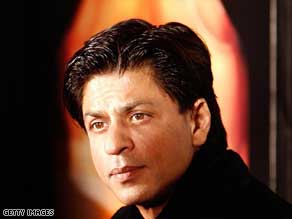 Shah Rukh Khan is the biggest movie star in the world. Since his debut in the 1992 feature film 'Deewana', he has dominated Indian cinema.
Shah Rukh Khan's life story is one which Bollywood scriptwriters would have been proud to have penned themselves.
His journey into Indian cinema took in tragedy, romance, determination and luck. It was also highly unconventional for an outsider like Khan to break into the inherently dynastic world of Bollywood.
Khan was born in Delhi in 1965. As a boy growing up, Khan never really dreamed of being an actor, his head and heart were consumed by sport -- notably cricket and hockey -- but injuries put an end to any dreams of becoming a professional sportsman.
But he had also dabbled in drama as a teenager and enrolled at Delhi's Theatre Action Group which had been run by the renowned theatre director Barry John since 1968.
The experience served Khan well, and with TV production starting to boom in India, Khan was soon called upon to appear on the small screen -- his first appearance was in the series "Fauji" in 1988.
Sadly both his parents died before seeing their son achieve success in Bollywood. His father Meer Taj Mohammed -- a lawyer and freedom activist who had campaigned for Indian independence -- died in 1981. His mother Latif Fatima, a magistrate, died 10 years later.
But it was the death of his mother that proved to be the catalyst for Khan switching from the small to big screen. Beset by sadness and depression at the loss of his mother, Khan decided to give the movies a shot and made a permanent move to Mumbai -- the center of filmmaking in India.
It wasn't long before he caught the eye of casting directors and soon a film role was offered to him. But Khan wasn't sure whether he should accept.
"I wasn't very keen," he told CNN. "But there were some friends in TV who convinced me to do it. I was more intellectually inclined. I wanted to do a more serious kind of cinema."
Nevertheless, in 1992 Khan made his film debut in "Deewana," winning him the Filmfare Best Male Debut award.
His continuing reluctance to take his new status and film roles too seriously meant Khan took on parts that some of the more established Bollywood stars would have rejected out of hand.
Khan believed he had nothing to lose, and he happily took on a variety of roles. In 1993 he played a murdering adulterer in "Baazigar." Khan's character (Ajay Sharma) pushes a young Shilpa Shetty off a roof and thus launched her career. The performance earned him his first Filmfare Best Actor award. Unafraid of being typecast, Khan reprised the 'bad guy" role in "Darr" (1993) and "Anjaam" (1994).
Playing the character of Raj Malhotra in the 1995 feature "Dilwale Dulhania Le Jayenge" (DDLJ) propelled him to new heights, confirming his versatility and popularity as a Bollywood actor. The film was a huge critical and commercial success, becoming the longest running film ever in Indian cinema -- it continues to run to this day in cinemas in Mumbai.
Khan had become, and remains, the hottest property in Bollywood. Despite his inability to sing -- all his songs are dubbed -- and, at best, an average talent for dancing, he oozes charisma. "His screen presence is still incredible," says his biographer Anu Chopra. "You can't take your eyes off him. He is just completely magnetic."
Box office records continue to be broken, awards continue to stack up -- so far he has won 13 Filmfare awards -- and throughout all of it his personal life has remained settled and happy. Married to Gauri since 1991, the couple had their first son Aryan in 1997. A daughter, Suhana followed in 2000.
The same year Khan, along with his friend and actress Juhi Chawla, set up the production company Dreamz Unlimited. In 2004, he founded Red Chillies Entertainment, which produced the highly successful 'Main Hoon Na' -- the directorial debut of the multi-talented choreographer Farah Khan.
Outside of filmmaking Khan can be seen presenting "Kaun Banega Crorepati" -- India's version of the successful 'Who Wants To Be A Millionaire" format. And recently, he was part of a consortium which successfully bid for one of the eight new franchises of cricket's Indian Premier League.
But his lifelong love for cricket still takes second place to his job as a continuing Bollywood phenomenon. Having already racked up over 60 films, Khan isn't about to shy away from the spotlight that he so openly adores.
"All my life I've worked towards being recognized," he says. "I love it. I am proud that I am a movie star and have no privacy. What is the point if I am a star and no one knows me?"
E-mail to a friend