LONDON, England (CNN) -- He's been called a "popcorn" director, a master of popular appeal who's big on effects but short on substance.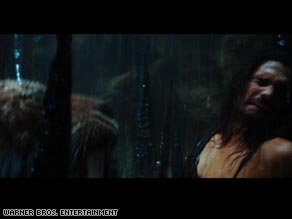 D'Leh (Steven Strait) comes face to face with a saber-tooth tiger in Roland Emmerich's "10,000 BC."
Film critic Hanns-Georg Rodek says anyone expecting a departure from Emmerich's typical style in "10,000 BC" will be disappointed.
"If you expect wonderful acting from a Roland Emmerich film, you will not get it. And you will not get it in this film either. [It stars] virtually unknown actors. They know they are only second to the big effects that Emmerich puts in every film."
While Rodek -- who sits on the German board of film critics and also writes for German daily Die Welt -- was underwhelmed by the acting, he was pleasantly surprised by the script.
"I think the script is unusually cohesive for an Emmerich film," he says.
"Everything follows out of the other [which] is quite astonishing as he has written it with someone who has never written a screenplay before and who's actually a composer -- the Austrian Harald Kloser. I must say they've done a pretty good job."
What do you think? Was the script creative, credible or cringe worthy? Are you a fan of Roland Emmerich or do you avoid his films at all cost?
Send us an email to revealed@cnn.com
E-mail to a friend