By CNN's Glen Scanlon
LONDON, England (CNN) -- Phwoar. You can just about hear the collective exhale from the women in the audience when Daniel Craig turns and smolders at the screen for the first time in the latest Bond movie "Quantum of Solace."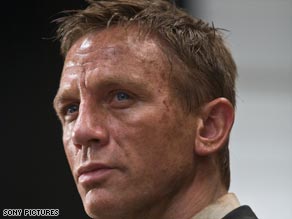 Daniel Craig has brought a raw edge to his portrayal of James Bond.
Craig's Bond is not keen on the cheesey comic turns of Roger Moore or Pierce Brosnan's smarmy charm. He's a cool killing machine wrapped in a perfectly fitting, crisp suit. He is, frankly, sex on a stick.
Following further in the footsteps of the highly energetic and wildly popular Bourne series, director Marc Forster has upped the ante with a series of bone-shaking stunts.
Craig's Bond is constantly bleeding, always bruised. It's a neat way of externalizing his battered emotional state following the death of girlfriend Vesper Lynd at the end of "Casino Royale."
Bond wants revenge but also needs to balance his loyalty to Queen and country, represented here yet again by the tough motherly figure of Judi Dench's M.
"Quantum of Solace" starts off with a full-throttle chase and the foot is only lifted from the pedal for the briefest of moments during the film.
Bond has grabbed Mr White (Jesper Christensen), the shadowy figure from the end of "Casino Royale" who is connected to Lynd's betrayal and death.
It's a pity more isn't seen of Mr White, a figure reminiscent of the menacing, chain-smoking "Cancer Man" from the "X-Files" series.
However, he is bound to reappear in future Bond films. This is a point which marks the current films out -- it is the first time the the plot line from an earlier episode has seriously been continued and looks set to keep running. It is a definite strength.
Mr White escapes, but Bond -- quickly piling up the bodies with a ruthlessness that leaves M exasperated -- stumbles on to Dominic Green, played by French star Mathieu Amalric.
Green is part of a mysterious organization called Quantum, who are hellbent on world domination of a type through the destabilization of third-world countries and the annexing of their natural resources.
While Green is the film's main villain, there are a lot of them including a dodgy Bolivian general (Joaquín Cosio) -- a very traditional, too cliched Bond baddie -- who dreams of dictatorship.
He is the link to Bond's prime female helping hand -- Olga Kurylenko's striking Camille, who is also intent on revenge.
Bond fights his way through Italy, Haiti, Austria and Bolivia. There are some incredible scenes, including a head-spinning moment in a plane. It's raw, exhilarating and quite tiring stuff.
Perhaps the best moment is in Austria, when at the opera, Bond coolly breaks into a secret conversation of Quantum's members. It's beautifully shot and more deft than some of the film's racier moments.
There is strikingly little dialogue in the film, which does harm the development of the characters. Bond's brief fling with Gemma Arterton's agent Field is shallow even by the franchise's typically low standards.
Still, this is part of what Bond films have always been about.
While not as engaging as "Casino Royale," Craig's captivating physical presence and the all out action will have most fans already looking forward to the next installment.
Quantum of Solace runs for 105 minutes, has a 12A rating in the UK and is released on October 31.
E-mail to a friend