By Tom Charity
Special to CNN

(CNN) -- Ever since Robin Williams' turn as the Genie in "Aladdin," voice artists who specialize in character work for animated movies have been sidelined by celebrities, no doubt tickled to do something they can show to their children.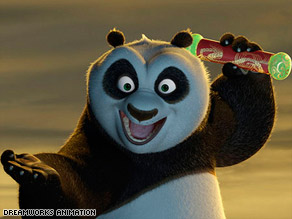 Jack Black tackles the voice of an energetic panda in the animated feature "Kung Fu Panda."
DreamWorks Animation especially has invested in star power -- though the studio's rationale must be to flatter an older, media-savvy audience. (After all, it's the place that teamed Robert De Niro and Martin Scorsese in "Shark Tale" and loaded the "Shrek" franchise with the dulcet tones of Mike Myers, Eddie Murphy, Cameron Diaz and Antonio Banderas.) Too often though, DreamWorks movies coast on lazy pop cultural references in place of the deeper story and character development found in Pixar productions.
"Kung Fu Panda" goes a step further. It's essentially an old-fashioned star vehicle, a virtual Jack Black movie that saves us the dubious pleasure of watching the real Jack Black doing the splits. (If you doubt that he could, check out the gravity-defying stunts an effects-enhanced Adam Sandler is capable of in "You Don't Mess With the Zohan." Or, on second thought, just take my word for it.)
Black is Po, a tubby panda who dreams of kung fu "awesomeness" but whose career prospects boil down to inheriting his father's noodle stand. That is, until doddery turtle Master Oogway (Randall Duk Kim) baffles everyone by anointing Po the "Dragon Warrior," a champion who will defend the valley from the wrath of mighty snow leopard Tai Lung (Ian McShane).
This inexplicable appointment not only threatens the safety of the entire community, it infuriates Oogway's small ratlike lieutenant, Shifu (a petulant Dustin Hoffman), who has dedicated himself to grooming a group called the Furious Five for just this task: Tigress (Angelina Jolie), Monkey (Jackie Chan), Mantis (Seth Rogen), Viper (Lucy Liu) and Crane (David Cross). iReport.com: Share your review of "Kung Fu Panda"
How can a chubby novice such as Po compete with these fierce warriors, let alone his former protégé, Tai Lung?
Shifu puts Po through the wringer in the hope that he'll see sense and quit, but along with his prodigious appetite for chop suey, it turns out the panda is also quite the glutton for punishment.
In other words, this is a fortune cookie variation that heroic slacker Black has played many times before: Po may look out of shape, but what he lacks in strength, discipline and intelligence, he more than makes up for in gut(s). You don't mess with the Po, man.
The action tends to blur into a whirlwind of slapstick chaos. Choreography of kung fu between a snake or a mantis and a leopard may be too anatomically mindboggling to animate in greater detail. Bruce Lee was fast, but at least he had hands. The highlight is Po's breakthrough training bout with Shifu, a brilliantly inventive comic tour de force built around a solitary dumpling.
Directed by Mark Osborne and John Stevenson, the film is brisk and businesslike, with an appropriately ersatz Chinatown look, but it doesn't betray any personality beyond Black's. Not that he isn't engaging, but it seems a waste of resources that Chan, Rogen, Liu and Jolie share about a dozen lines between them.
"Kung Fu Panda" is fun as far as it goes, but unless you're 12, you'll be hankering for something a bit more substantial half an hour after it's over.
"Kung Fu Panda" is rated PG and runs 95 minutes. For Entertainment Weekly's much more laudatory take, click here.
E-mail to a friend

All About Jack Black • Cartoons and Animation