LOS ANGELES, California (CNN) -- Liv Tyler doesn't like to be bothered by her agents at night. But it's a good thing she took their call pitching her "The Incredible Hulk."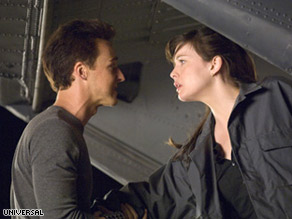 Liv Tyler plays Betty Ross, a colleague of Edward Norton's Bruce Banner, in "The Incredible Hulk."
"My agent called me one night ... I had just put [son] Milo to bed. It was like 9 o'clock at night, and I always get grumpy with them when they call me really late," she told CNN. "They said, 'Marvel would like to fly you to Los Angeles tomorrow. Will you get on a plane to come and meet for 'The Hulk'? And I said I can't come tomorrow, but I can come the next day."
The flight turned out to be well worth it -- though Tyler said she was discombobulated by the speed of it all.
"I went and met with [director] Louis [Leterrier] and they offered me the part that day," she said. "I was kind of floored because it just happened so quickly and I didn't get to read the script. ... [But] it was kind of a no-brainer."
In the new "Hulk," "The Lord of the Rings" actress plays Betty Ross, a former colleague of scientist and Hulk alter ego Bruce Banner (Edward Norton). She said working on the film brought back memories of her childhood watching the TV show starring Bill Bixby and Lou Ferrigno. (Ferrigno has a cameo in the new film.)
"I loved the TV show when I was a kid," she said. "I used to watch it all the time with my mom. It was our favorite show."
Tyler, 30, said that she felt a tremendous sense of responsibility to the "Hulk" mythology, particularly since a 2003 film on the character met with mixed reviews.

Watch Tyler, Norton and Leterrier on the latest "Hulk" »
"Well, a lot of people would say -- even I said -- 'Oh, they're making "The Hulk"?' Didn't they do that already?" she said.
But she added, "The fans love this so much ... and there's so much detail to the story, I always feel quite stressed about that, like I really want to do the part justice. ... I definitely feel that responsibility and want to do the best job that I can."
E-mail to a friend

CNN's KJ Matthews contributed to this report.
All About Edward Norton • Liv Tyler • Movies