By Tom Charity
Special to CNN
(CNN) -- Imagine Jason Bourne in stretchy pants. That's the basic idea in Marvel's relaunch for Stan Lee's Jekyll-and-Hyde character, "The Incredible Hulk."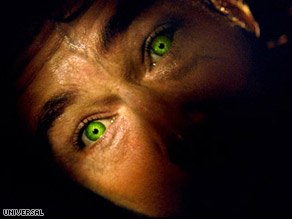 You don't want to get Bruce Banner (Edward Norton) mad in "The Incredible Hulk."
Five years ago, Ang Lee produced a thoughtful but self-conscious -- and only half-successful -- version of the comic book tale, which starred Eric Bana, Jennifer Connelly and Nick Nolte. Reviews were good and bad. Business was just OK.
So bring on the Hulk again. It's got a new cast and rather new story, with only Stan Lee and original TV Hulk Lou Ferrigno back in witty cameos.
Edward Norton takes over as scientist Bruce Banner, a choice that plays up the Jekyll and Hyde theme, and which capitalizes on the actor's track record as dual personalities in films such as "Primal Fear" and "Fight Club." (Norton reportedly had a hand in the script too, though the prolific Zak Penn has sole credit on screen.)
First seen hiding out in Brazil, Banner is keeping a low profile after running off following experiments conducted for the U.S. military. He hadn't realized at the time that Gen. Ross (William Hurt) meant to develop a super-soldier, an invulnerable fighting machine. Now, Ross is desperate to reclaim his prototype, and Banner is just as desperate to find an antidote that will rid him of his condition.
He may not suffer from amnesia, but like Jason Bourne, Banner has a scary tendency to turn into a pure killing machine if you push him. And like Bourne, he realizes that in order to disable that reflex, he's going to have to return home and see what really makes him tick.
His biggest ally is his former scientific colleague, Betty Ross (Liv Tyler), who holds the original testing data. Then there's the mysterious "Dr. Blue," with whom he's been comparing notes over the Internet.

Watch Tyler, Hurt and Tim Roth go over the film »
But he also risks bumping into his potential nemesis. Emil Blonsky (Tim Roth) is a gung-ho commando, a Russian who was raised in Britain and whose main goal in life would seem to be to find a fight worthy of his mettle. iReport.com: Will you see the new 'Hulk'?
"Is that all you've got?" he leers after the Hulk has battered him with the hull of a crashed helicopter, and there's a clear masochistic edge to his provocation.
Blonsky persuades Gen. Ross to let him try some of that Gamma poison that produced the Hulk, and each time the two of them square off, the match gets tougher and the stakes get higher.
It's all pretty straightforward, and there's nothing wrong with that. French filmmaker Louis Leterrier ("Transporter 2") doesn't carry the same intellectual or artistic baggage with him that Ang Lee does, but he seems more in touch with the comic book's pop mythology. Moreover, his jokes are funnier, as when Banner mangles his famous catchphrase in the Portuguese he's learned from "Sesame Street's" Oscar the Grouch.
I can't say I believed the ponytailed Liv Tyler as a cellular biologist or whatever it she's supposed to be, but there is palpable tenderness in her scenes with Bruce and his engorged alter ego. This is Fay Wray and King Kong, "Beauty and the Beast" all over again.
I haven't seen Ang Lee's movie since it came out, but I recall finding the computer-generated Hulk too plastic and cartoonish, as if he'd dropped in from another film entirely. The transformations here are woven into the fabric of the movie with some care -- often they're shrouded in darkness or fog -- and the Hulk has a very real physical presence.
Leterrier and company are still careless about collateral damage, however. Of course they can't afford for the violence to be too painful, putting off the family-preteen audience (the film is rated PG-13), but the movie would make more emotional sense if Bruce Banner acknowledged the blood on his hands after one of the Hulk's rampages -- the U.S. airman who must have been flying that helicopter, for instance.
The climax is a bit of a yawn -- it boils down to two big apes slugging it out with an entirely predictable outcome -- but most of what precedes it is vigorous and sharp. The teaser ending hints that we'll be seeing more of the combatants in a year or two. It's an exciting prospect.
"The Incredible Hulk" is rated PG-13 and runs 114 minutes. For Entertainment Weekly's take, click here.
E-mail to a friend