By KJ Matthews
CNN
LOS ANGELES, California (CNN) -- William Hurt doesn't suffer fools.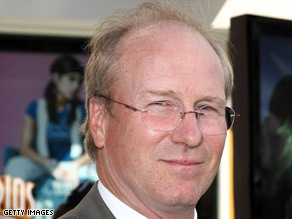 Actor William Hurt, who plays Gen. Thaddeus Ross, arrives at the premiere of 'The Hulk' on June 8, 2008.
His intelligence comes across in his roles, whether it's the envelope-pushing professor in "Altered States," the inspector in "Dark City" or George Clooney's CIA friend in "Syriana."
His shrewdness even comes across in his more offbeat roles, such as the blankly conniving reporter in "Broadcast News" or the successful gangster in "A History of Violence."
He likes to mix it up -- which is one reason he took the role as Gen. Thaddeus Ross in "The Incredible Hulk."

Watch an interview with the cast »
CNN's KJ Matthews talked to Hurt about the new "Hulk," as well as the actor's approach to his job. (And for Hurt, it is a job.) The following is an edited version of the interview.
CNN: You always [seem to] get offered very meaty roles.
William Hurt: I had to fight for some of them, believe me.
CNN: And did you have to fight for "The Hulk"?
Hurt: "The Hulk" was an offer, but you don't just get offered stuff like that.
CNN: Well, William Hurt does.
Hurt: If you establish a pattern of wanting to do differentiated work, then that becomes a pattern people will hopefully seek to answer.
You know, if you want some homogenized idea of your personality to be sported for people's perusal, then good, that's what you're going to get. But if try to say, look, I'm an actor ... and I'm going to make something, and we'll all step back from it and look at it and see if we get anything out of it, then hopefully that becomes the pattern people begin to respond to. ... They don't offer you the package guy.
CNN: The thing about "The Incredible Hulk" is that so much of it is already saturated out there in popular culture. ... Did you have any reservations [about taking the role as Gen. Ross]?
Hurt: Well, I mean, it goes back to the old adage, of how many stories are there? You know, some people say there are a half a dozen stories, it's just how you tell them.
No, of course not, I mean, Hamlet doesn't get played once, it can be played a thousand times in a thousand different ways. The themes are always interesting to all of us; the stories themselves, in terms of plot structure, are really not that differentiated. What is measured differently is are we telling it aptly in our time. So you can do anything you want with any story. iReport.com: What did you think of the Hulk?
CNN: Did you work with Ed [Norton] ... to change anything in the script?
Hurt: I don't change scripts. I'm not an actor who changes things. I don't adapt things to myself. I go to it, I go to the script. I don't bring it to me. I agree to it when I first start out, there were changes made, maybe some of those we based on some of the things I said in rehearsal, I don't know.
CNN: Well, how much fun did you have playing this role?
Hurt: I don't call it fun, I call it work. If it was fun, they wouldn't call it work. I mean, play is play, fun is fun and work is work. They're different. I work hard, even if it's supposed to be fun for someone else, it's work for me.
CNN: There are so many films out there, that when you're watching it in theater, it looks so [computer-generated]. "The Hulk" didn't feel that way.
Hurt: One of the things I tried to do with my role is I tried to say well, these are pretty broad strokes we're using here. It's based on a comic and a cartoon. And it's a classic cartoon, so the themes are classic. And you can have a brilliant cartoon and you can have a brilliant poem, I mean, it's no difference.
One of the things I tried to do was help that liaison between naturalism and CG by making a character that resonated to the original comic, and I thought I could help do that, and I think I did a little bit.
CNN: You [worked with] a great cast of characters -- really accomplished actors and actresses, that really take their craft seriously. So did you have a great time on set with them?
Hurt: It's not a party.
CNN: But it's nice to be around people who like to work as hard as you do.
Hurt: I like to work. I'm glad, I'm privileged to have work. But I approach it that way and I don't go ... I'm not going out at night. I'm not going to party. I'm going to go do something that will make me break a sweat.
Why would you work any differently? If you don't exercise, you don't stay strong. I like to work with talented people. It's an honor to work with talented people, yeah.
CNN: What about your upcoming projects?
Hurt: There's a small independent film I'm about to do called "The River Why," and hopefully I'm going to do some episodes on "Damages" with Glenn Close. And also, the Ridley Scott film, I'm going to do the next Ridley Scott film.
CNN: And before I let you get out of here, anything about the political race you want to say?
Hurt: What a thrill it was to be an American when it was you know, an American hero, a soldier, who sacrificed a lot for his country, and a white woman and a black man. After that, things got a little bit more difficult, but that moment, I savored very deeply.
E-mail to a friend

All About William Hurt • Movies