By Tom Charity
Special to CNN
(CNN) -- Stop me if you've heard this one before, but producer Judd Apatow has another hit comedy on his hands. This time it's "Step Brothers," an astute no-brainer that's also Will Ferrell's funniest effort since "Talladega Nights."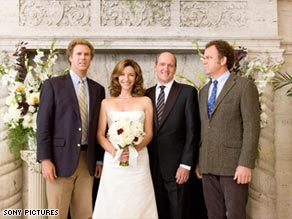 Will Ferrell, left, and John C. Reilly, right, play in-laws who find themselves at odds.
It's no coincidence that Ferrell is back with the "Talladega" team: "Anchorman" director Adam McKay and co-star John C. Reilly. All three share a story credit, while Ferrell and McKay are listed as co-writers.
In "Step Brothers," Ferrell is Brennan Huff, a 40-year-old virgin (probably) who still lives with his mom, Nancy (Mary Steenburgen). Reilly is Dale ("Call me Dragon"), the equally immature son of Dr. Robert Doback (Richard Jenkins). When Nancy and Robert get married, the new siblings make no effort to conceal their hostility.
These aren't middle-aged sad-sacks so much as overgrown teenagers -- Wayne and Garth with curlier hair. They wear Yoda T-shirts, dream of rock stardom and get their jollies over back issues of "Good Housekeeping." When Robert really has to get tough -- much too late, obviously -- he bans them from watching TV.

Watch the stars explain themselves »
It's tempting to see this as a not-so-subtle swipe at the dominant moviegoing demographic, the hormonally mixed-up teenage male, just as "Talladega Nights" took its pokes at NASCAR fans.
But if Ferrell and company like to bite the hand that feeds them, the mockery is decidedly indulgent. Like Adam Sandler, Jerry Lewis and so many other comics before them, Ferrell's childish antics tap an underlying innocence -- even when he's, well, desecrating Dale's drum kit (I'll leave it to you to see how).
The real enemy of "Step Brothers" is Brennan's egregiously successful younger brother Derek (Adam Scott), a superconfident go-getter whose mercenary brand of ingratiating narcissism makes him a parental favorite -- and unites Bren and Dale in their loathing.
Anyone who has boys in the house (or used to be one) will find plenty to wince at here. The peevish put-downs, overweening sense of entitlement and volcanic temper tantrums could all hit uncomfortably close to home if Ferrell and Reilly didn't appreciate the ridiculous side of adolescent angst. A couple of spookily anarchic sleepwalking episodes up the ante still further -- unleashing a surrealistic impulse that feeds into Jon Brion's supple, eclectic score.
While old pros Steenburgen and Jenkins sketch in enough detail to suggest where the family dynamics have gone awry, and why the step-brothers would fight to save their marriage, the film never makes the mistake of taking itself too seriously. McKay runs away from sentimentality with every ironic fiber he can muster.
The laughs tail off a little when the boys decide to put aside childish things and earn their keep -- as they must -- but this is just a temporary blip.
Faced with the sensible course -- say, opening a car rental franchise -- or facing his fears and opening his lungs before a crowd of important personages, Brennan proves that there is still hope. In at least one line of work -- showbiz -- you never do have to grow up.
Unremittingly juvenile and irredeemably funny, "Step Brothers" is conclusive proof of that.
"Step Brothers" runs 112 minutes and is rated R. For Entertainment Weekly's take, click here.
E-mail to a friend

All About John C. Reilly • Will Ferrell