By Tom Charity
Special to CNN
(CNN) -- "Swing Vote" hits on a premise even the average American voter will find hard to credit: a presidential election so close, it comes down to just one state, one county, one town and finally one ballot.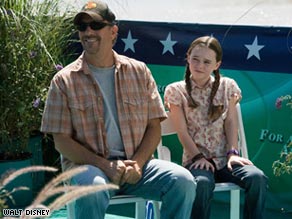 Kevin Costner plays a ne'er-do-well whose ballot could tip an election in "Swing Vote."
A voting machine malfunction means the "fate of the free world" -- as the screenplay rather quaintly puts it -- rests on the shoulders of Ernest "Bud" Johnson (Kevin Costner), a none-too-bright and rarely upstanding citizen of small-town New Mexico who will break the deadlock after a 10-day campaign solely for his support.
This hanging chad of a man is raising a bright, articulate 12-year-old, Molly (a very confident Madeline Carroll), though it seems more like she's raising him. She cooks his breakfast, packs his lunch, and in one running gag, she wakes him up every morning in time to run her to school.
Written by Jason Richman and Joshua Michael Stern, and directed by Stern, "Swing Vote" is a pokey, lackadaisical comedy, taking broad satirical potshots at politicians who will say anything to get elected. (As if!)

Watch Costner talk about the movie's points »
The incumbent is Republican Andrew Boone (Kelsey Grammer), who wheels in Richard Petty to catch Bud's eye, lets him smell the leather in Air Force One, and declares his favorite fishing spot a national park.
Democratic challenger Donald Greenleaf (Dennis Hopper) has Willie Nelson in his corner, but airs ads against immigration and abortion in the mistaken belief that's what Bud wants to hear. In point of fact Bud doesn't have much of a position on anything, unless it's live and let live. He's the first to admit Molly is the brains of the operation.
Stern means to give us an update on the kind of American fable Frank Capra made in the late 1930s and early '40s: "Mr. Smith Goes to Washington" and "Meet John Doe." Those pictures were contemporary fairytales too, screwball morality plays of metropolitan chicanery faced down by the essential virtue of the Little Man. They were sentimental, sure, but they were rapt in their own idealism, an immigrant's utopian vision of what America could -- and should -- mean.
That ardor is best expressed in Jimmy Stewart's inspiring filibuster before the Senate in "Mr. Smith," no matter that his only agenda is to secure future boys' camps.
An actor who seems to float in and out of fashion without doing anything much different on his part, Kevin Costner does hark back to that core American Everyman quality embodied by Stewart and Gary Cooper, a kind of bedrock integrity that's a little slow, unapologetically small-town, and in Costner's case topped off with a goofy grin.
Here he's goateed, with jailhouse abs but the beginnings of a beer gut. Bud isn't malicious or vindictive, but he's coasting through life and losing ground -- he can't even hold on to his job in an egg-packing factory, not so much because of outsourcing (or what a paranoid workmate dubs "in-sourcing" -- Mexican laborers coming in to take American jobs), but because he's always late and a congenital slacker.
Costner has played losers before -- most eloquently in Ron Shelton's "Bull Durham" and "Tin Cup" -- but these were grand, romantic underdogs who still savored the game. This guy, Bud, is just asleep at the wheel.
Still, if "Swing Vote" is surely peddling its own brand of syrup and soft soap in its effort to capture Capra, it's got a bit of steel in it as well.
The film doesn't shy from painting an authentically sorry picture of the state of the union from one of the ladder's lower rungs. The view around Bud's home features poverty, insecurity, racial and ideological divisions, and broken families. Indeed, Mare Winningham is notably harsh in her one scene, as Molly's absent and pill-popping mom.
Opportunistic politicians may not be helping, but in Bud's big moment he wonders whatever happened to his own hopes and dreams -- and takes responsibility for the drift. It's a sentiment Capra might well have echoed, though he would surely have punched up the gags while he was at it.
"Swing Vote" is too limp to make a lasting impact, but it is a rueful reflection on where we find ourselves -- or more pertinently, where we lost ourselves. A tighter focus on that subject, along with sharper jokes, could have made "Swing Vote" a winner.
"Swing Vote" is rated PG-13 and runs 110 minutes. For Entertainment Weekly's review, click here.
E-mail to a friend