By Tom Charity
Special to CNN

(CNN) -- Producer Judd Apatow continues his popular assault on common decency in "Pineapple Express," an R-rated celebration of recreational drugs, anti-authoritarianism and mindless violence.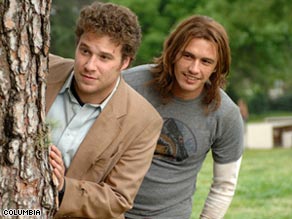 Seth Rogen and James Franco find themselves in trouble in "Pineapple Express."
If the "R" is meant to signal "mature content," most teenagers will know better. These days it's hip to take both the high road and the low, and Mr. Apatow and his gang -- including Seth Rogen, James Franco and a new addition, director David Gordon Green -- will be laughing all the way to the bank.
Rogen, who co-wrote the film's screenplay with his "Superbad" partner Evan Goldberg, stars as Dale Denton, a process server. He wears a suit, dates a high school student 10 years his junior, and dreams of having his own talk radio show -- most of which would have qualified him as the enemy in a Cheech and Chong flick.
However, he does smoke a lot of pot -- 10 joints a day. "Weed makes everything better," he declares with the air of one who has studied the subject inside and out. (The title, "Pineapple Express," refers to a type of particularly potent marijuana in the film.)
Letting his hair down for once -- and more engaging for it -- is James Franco as Saul Silver, Dale's helplessly genial supplier and default buddy (evidently neither is well-off for friends). When Dale witnesses a drug kingpin and a dirty cop (Gary Cole and Rosie Perez) shoot a rival, it's Saul he runs to -- one of several glaring leaps in logic that can only be excused by his near-permanent mental fog. Saul's a sweet guy, but he has the street smarts of roadkill.
So what we have here is a stoner action comedy, an unusual hybrid that -- for good reason -- hasn't exactly been attempted before. But "Pineapple Express" draws plentiful absurdist energy from the chaos.
Instead of running for their lives, these fugitives light up, scare themselves silly and wind up snoring through the best part of a day. Earnest resolutions to stay clear-headed are immediately forgotten as they blunder from one potentially fatal misstep to the next.
You couldn't say the film's erratic stop-go staccato rhythm makes for white-knuckle excitement. Sometimes it stops too long. Sometimes it goes too far. But it's unlikely the movie's target audience will mind -- half-baked isn't always a criticism.
None of this is what you would expect from Green, an independent filmmaker whose first two features ("George Washington" and "All the Real Girls") managed to find poetry in poverty and earned the director comparisons to Terrence Malick. He has been inching toward the mainstream in recent years, but he's never touched anything as, uh, "high-concept" as this.
Green mixes agreeably mellow goofiness with panicky bursts of mostly inept, sometimes catastrophic violence. He reveals a taste for laugh-or-cry slapstick shlock: a car chase is pepped up with the insertion of the driver's foot, stuck in the middle of the windscreen; a lengthy fight with an obnoxiously untrustworthy ally (very funny stuff from Danny McBride) destroys most of his home furnishings.
The climax has a body count worthy of a John Woo movie, but it's delivered with such a giddily cartoonish splatter as to make it seem like trippy parody.
Hitching a ride on the Apatow Express should score Green his first hit. Fans of "Dazed and Confused," "The Big Lebowski" and "Superbad" are already buzzing. What he brings to the table is a disarming, sometimes jarring, naturalism and spontaneity -- this is a far cry from Apatow's own point-and-shoot sitcom style -- and a recklessness that jibes well with Rogen's proclivities for outrage and sentimental male bonding.
It may come off as bitter at first, but "Pineapple" only has enough rough edges to disguise a heart of purest, sweetest mush.
"Pineapple Express" is rated R and runs 112 minutes. For Entertainment Weekly's take, click here.
E-mail to a friend