By Fei Phoon
For CNN
LONDON, England (CNN) -- It all began in Rome in 2004.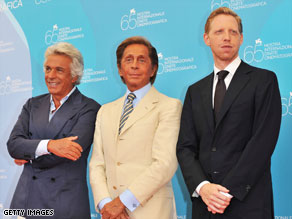 (L to R) Giancarlo Giammetti, Valentino and Matt Tyrnauer at the 65th Venice Film Festival this year where "Valentino: The Last Emperor" premiered.
That was when American journalist Matt Tyrnauer first met Valentino Garavani.
Tyrnauer was profiling the fashion designer for U.S. magazine, Vanity Fair but admits he "wasn't a fashion writer" and didn't know what to expect.
But as he settled in with Valentino and Giancarlo Giammetti, his business partner of 50 years, he became enchanted by their relationship -- the heart and soul of Valentino's fashion success.
The idea of filming the spry Italian pair -- Valentino is 76, and Giammetti is five years his junior -- struck him later on when he was writing the article.
"I thought you know what, this could be a movie and it wasn't the fashion element, it was the relationship, it was the love story," Tyrnauer tells CNN at the Venice Film Festival.
This was Tyrnauer's great discovery: Prior to his Vanity Fair profile, little was known about Valentino's relationship with Giammetti.
The friendship between Valentino, fussy as royalty and a stickler for detail and the shrewd and eternally patient Giammetti dates back to 1960, a year after Valentino opened his first fashion house in Rome, Italy.
Soon after, Giammetti dropped out of university to rescue Valentino's business from bankruptcy. In 1962 Valentino made his international debut in Florence, Italy's fashion capital at the time.
"People say Valentino and Giancarlo are like a marriage and I say it's bigger than a marriage," says Tyrnauer, "But I think it's bigger than love, I think it's friendship in the platonic sense and that's the story I wanted to tell.
" ... And they happen to build an enormous fashion empire and change fashion along the way," he continues.
So, Tyrnauer floated the idea of capturing everything in a documentary to the pair. Valentino's response: " ... I say why not."
Thrilled, Tyrnauer rushed to gather a camera crew and headed for Rome.
"Once I started I refused to stop no matter what, because I thought if I stop I'll lose momentum and then God knows what will happen," Tyrnauer remembers.
They filmed non-stop from June 2005 to June 2007, ending up with a monumental 250 hours of raw footage.
The final product, a 90-minute cinéma vérité film called "Valentino: The Last Emperor", premiered at the Venice International Film Festival earlier this year.
It follows the two friends through the last leg of their splendid career in fashion, and also chronicles the last days of an empire.
It charts highs and lows, from Valentino's tearful acceptance of the Legion d'honneur, the highest decoration in France, in 2006, to the period leading up to a hostile takeover of the couturier's business and, ultimately, "fashion's last king" being removed from the helm of the house he created nearly 50 years ago.
And, in between, Valentino and Giammetti bicker, test everyone's patience and load Valentino's beloved pugs on and off planes and yachts.
Valentino is no stranger to film appearances -- his most recent cameo was in "The Devil Wears Prada" -- but Tyrnauer's film presented a whole new level of stress: He and Giammetti were constantly wired for sound and shadowed closely by the crew.
"You're with someone for two years with a camera; it's hugely invasive and I think it took enormous courage from Valentino and Giancarlo to allow the cameras to live with them for two years," says Tyrnauer.
"They didn't always like [it] when we were there and they didn't like always what we put in the movie, to be honest with you."
Valentino confesses that he feels safer when he is in control, but the maestro is also a man of his word, and Tyrnauer had "complete control over the editing."
"There was no participation or involvement on their part, also very brave," Tyrnauer adds.
Unexpectedly, Valentino himself took away something from the experience.
He has always remained tight-lipped about his private life; it is said that neither he nor Giammetti, with whom he was romantically involved at one point, discussed their relationship -- even with their mothers.
"I have to tell you most of the time I didn't realize I had the camera over my shoulder because it was a working day in my fashion house," says Valentino.
"But when you're preparing a collection and you do this and that ... you forget completely ... and finally I realize when I see the film that sometimes I am a little rude."
He is quick to accept these revelations about his own character, however, and is perhaps proud of his decision to relax his personal boundaries.
"I'm a private person and I never [liked] to show my private life, but finally I realized that I see everything."
But despite Valentino owing his career to his fascination for old movies, he vigorously waves away any speculations that he might end it as a movie star. "But no, I am a star of fashion, a fashion star."
As for Tyrnauer, he probably heaved a huge sigh of relief at the outcome in Venice where the film was given a 10-minute standing ovation.
"I was just glad they were getting up and applauding and not walking out," he says.
And he could not have chosen a better setting for the movie's premiere.
"I'm an American; this is an American movie, but also really Italian because it's filmed in Italy, and nothing could be more appropriate than having it in Venice ... It's Valentino country, and he was justly applauded."
"... He was in tears actually. I was sitting right next to him."
E-mail to a friend

All About Venice • Venice Film Festival • Valentino SpA • Italy