By Tom Charity
Special to CNN
(CNN) -- We can laugh about it now. Last year's Iraq movies -- "Grace is Gone," "Lions for Lambs," "Redacted," "In the Valley of Elah" -- were conflicted, anguished, and disillusioned. Which must have been how the filmmakers felt when the public shrugged and went to "Transformers" instead.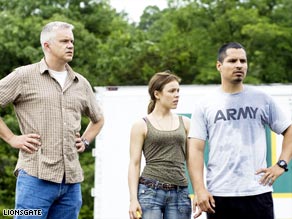 Tim Robbins, Rachel McAdams and Michael Pena star in "The Lucky Ones."
Writer-director Neil Burger wouldn't describe his unexpectedly engaging road movie "The Lucky Ones" as pro-war, but it's less tortured, and less overtly political.
The returning soldiers in "Stop-Loss" couldn't keep it together for 24 hours. Burger's three battle-scarred veterans get into the odd brawl, but their mental wounds aren't debilitating and they enjoy some well-earned R&R en route. In fact, they seem less messed up than some of the civilians they encounter.
The three strangers meet on their homeward journey and agree to share a car when flights out of JFK are suspended after a power outage.
Sgt. Cheever (Tim Robbins, underplaying nicely) is impatient to get back to his wife and son in Missouri now that his enlistment is up. Pvt. Colee Dunn (Rachel McAdams) and Sgt. T.K. Poole (Michael Pena) are on 30 days' leave. They figure they can fly on to Las Vegas from St. Louis.
They may not have anything outside of the last two years in common -- and they don't talk about that too much. Then again, they don't need to.
Colee, who is guileless and sweet but not the sharpest knife in the cutlery drawer, plans to return her friend Randy's guitar to his folks and dreams they'll take her in as their own. She's limping from a bullet wound to her thigh.
Cheever injured his back in an unfortunate incident with a Porta-John and T.K. is experiencing erectile problems after a close encounter with a chunk of shrapnel. He means to get some professional help in Nevada before returning to his fiancée.
There's a bump in the road when Cheever's wife hands him divorce papers. His compadres decide it's best to stick with him and continue the drive.
Where "Stop-Loss" wore its field research and its conscience on its sleeve, "The Lucky Ones" is a more traditional road movie, alternating between whimsical comic and dramatic episodes that test the bonds between its characters and gauge their place in a country they are proud to serve.
Do the movie's sometimes far-fetched developments (charitable prostitutes, a twister) trivialize the plight of real war veterans? I don't think so -- though the sitcom-y score is a mild irritation.
Burger ("The Illusionist") and co-writer Dick Wittenborn playfully undercut the melodrama, and these gentle curveballs invariably enhance our appreciation of the characters, who generally behave better than we might suppose.
When Cheever gets his marching orders from his wife, for example, T.K. confidently predicts it's going to trigger murder or suicide, but he's disappointed on both counts.
In fact, while T.K. initially seems clued up and confident -- he sees himself as a future leader, and constantly harps on his "skills" -- his assumptions of superiority and control prove wide of the mark.
Colee, on the other hand, has little going for her except her sunny disposition and generosity of spirit, but that might just be enough to see her through.
Even so, it's obvious all their options are limited. That could be why they enlisted in the first place.
McAdams -- the underemployed star from "The Notebook" and "Red Eye" -- pops off the screen here. She's funny and charming and can whoop it up like the best of them. The role has similarities with the character Amy Adams played so beautifully in "Junebug" -- they're two true believers -- and McAdams might reap some awards recognition herself.
That is, if this small but likable picture is allowed time to find its audience. It's getting a modest 400-screen release and virtually no marketing push, so go soon.
"The Lucky Ones" is rated R and runs 115 minutes. For Entertainment Weekly's take, click here.
E-mail to a friend

All About Movies