By Tom Charity
Special to CNN
(CNN) -- Clint Eastwood, feminist?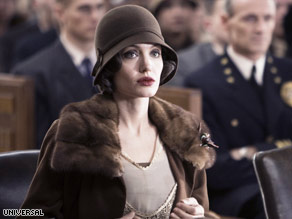 Angelina Jolie stars as a woman whose child is abducted -- and then mysteriously returned -- in "Changeling."
It might not be the first word to come to mind, but he defended Hilary Swank's right to punch her weight in the Academy Award-winning "Million Dollar Baby," and he has regularly cast strong, smart actresses in his films, women like Marcia Gay Harden, Frances Fisher, Diane Venora, Sondra Locke and Laura Linney.
Angelina Jolie may be the most formidable of the lot, and "Changeling" -- which opens in wide release Friday -- is both a forceful testament to the perseverance of a single mother (Jolie's character, Christine Collins) and a damning indictment of unfettered patriarchal power in the late 1920s.
In this true-crime story, Dirty Harry lifts the lid on one of most corrupt regimes in the less-than-stellar history of the Los Angeles Police Department.
"Everybody knows women are fragile," Carol Dexter (Amy Ryan) tells Collins as she explains how Code 12 patients are processed in the psychiatric ward of the Los Angeles County General Hospital. See, Code 12s have been committed directly by the LAPD, and naturally the hospital staff ask no questions. No matter that Carol's mental lapse was filing a complaint against a "john" who beat her. He was a cop.
Christine's case is more unusual: Five months after her son, Walter, was abducted, the police reunited mother and child with great public fanfare. When Christine protested that this boy wasn't Walter -- her son was three inches taller when he disappeared, he wasn't circumcised, and he knew his own teacher -- the cops bundled her off to the psycho ward.
In a dilemma worthy of Joseph Heller or Franz Kafka, to prove her sanity, Collins must sign a document recognizing that this strange boy is indeed her son.
If Clint the movie star tends to be laconic, the same is generally true of Eastwood the filmmaker. He shies away from expressionism, preferring a clipped, self-effacing shooting style that's always in the service of the script: The camera is securely settled; lighting tends to be darker than the norm; the cutting is a little slower. It's a classical Hollywood approach that may seem old-fashioned to younger eyes.
There are histrionics here, though. An innocent woman hauled off for electric shock treatment, stolen children butchered by an ax murderer, a mom confronting the killer -- even in Eastwood's sober accounting, this makes for heavy-duty melodrama.
And the cops -- specifically Capt. J.J. Jones (Jeffrey Donovan) and his boss, Chief James "Two Guns" Davis (Colm Feore) -- would be the dutiful heavies in question. It's surely no coincidence that Donovan resembles Jason Butler Harner, who plays the demented child killer. The one is a twisted mirror image of the other, and the movie concludes with both on trial on opposite sides of the street.
Laconic or no, Eastwood does have a weakness for a long, leisurely coda, and "Changeling" loses some of its sting as a result.
But Jolie -- her red lips virtually the only burst of color in a pale palette -- dominates the screen. "Never start a fight, but always finish it," she tells her son early on, and you can believe she walks the talk.
Still, perhaps her performance is too strong, and there might be an argument for a less self-confident actress in the role. After all, for some unknown reason, Christine Collins -- in life and in the movie -- initially accepts the changeling into her home. iReport.com: Share your thoughts on 'Changeling'
We see how Jones browbeats her -- she's in shock, he tells her; a boy changes in five months -- but still it hardly seems feasible, unless on some subconscious level this woman wonders whether a substitute child might be better than no child at all. There's no hint of that kind of need in Jolie's rigorous and accomplished performance, and it's not a mystery Eastwood sees fit to dwell on. That's a mistake, I think: It leaves a hole where there might have been ambiguity and doubt.
"Changeling" is a hell of a story, to be sure, but there's something simplistic in the way it divides the world into good and evil. That's a little too easy, even in the City of Angels. But there is plenty of good in Eastwood's moviemaking, and it's those pleasures that make "Changeling" well worth it.
"Changeling" is rated R and runs 140 minutes. For Entertainment Weekly's take, click here.
E-mail to a friend

All About Angelina Jolie • Clint Eastwood